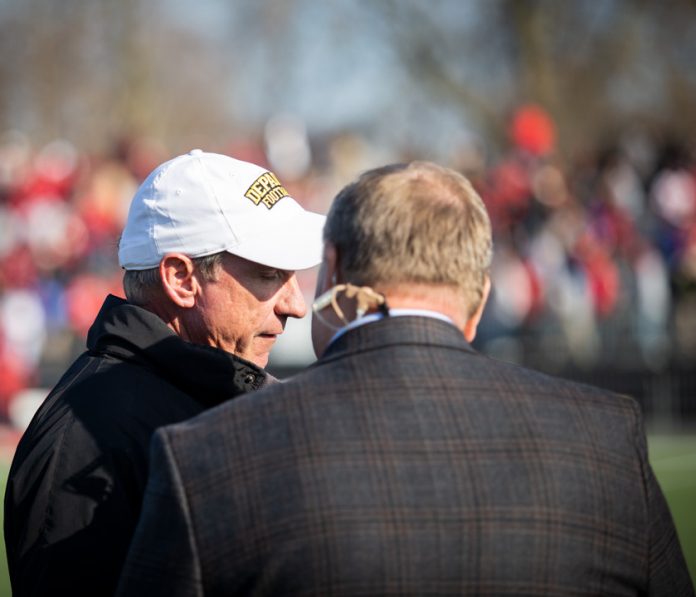 Bill Lynch was more than a football coach
Every pee-wee football player dreams of playing football on the biggest stages.
I did, at least. I wanted to play in the NFL.
As I got older and wiser, I knew that goal was unreachable, but I could still play at a Division I school.
But even that became an unreachable goal. After I finished my senior football season in high school, I realized I was one of the 99.9% of high school football players that wasn't good enough to play DI football.
I met with college coaches at the DII and DIII levels after my senior season, but the disappointment of not getting recruited by the big schools weighed on me. I was ready to hang up the cleats.
But then I met Coach Lynch. Not only had he previously coached at Indiana University and Ball State University, but his demeanor made me feel like I was meeting with the biggest of coaches. It felt like I was preparing to play on the biggest of stages.
Choosing DePauw was a decision that changed my life and I can largely attribute it to Lynch.
You could feel the intensity radiate off him at practices. As head coach, he wasn't in charge of one position group. Rather, he oversaw the entire practice. At midfield he'd stand, with a piece of gum in his mouth and a DePauw visor in his right hand.
The gum and visor became Lynch's staples. Fans of college football will never forget Lynch launching his gum after a bad call against the mighty University of Michigan Wolverines during his time at IU, a tenure that gave the Hoosiers a seven-win season in 2007 they wouldn't be able to replicate until 2019.
DePauw football players will never forget his famous visor throws at practice when he needed to emphasize a point he was making.
This is what made Lynch different than most football coaches, though. His visor throws didn't come after a dropped pass or missed tackle. They came after character-driven mistakes, and with lessons that stuck with players.
I'll never forget one time I caused Lynch to throw his visor. I played cornerback, and I guarded the same wide receiver at practice every day. That wide receiver, Jake Hagan, was one of my best friends. We loved matching up against each other.
But as most football players know, things get chippy when you go up against someone every play of every day. Hagan and I were especially chippy at that practice, jawing with each other after every play.
To us, this was all in good fun. But what we didn't realize was the influence we had on the younger players. First-years and sophomores began taking after us, but in a much realer sense.
Lynch wasn't going to let that slide. A toss of the visor later, and Hagan and I were getting an earful from our commander.
How many head football coaches get the maddest when you are setting a bad example for younger players, rather than dropping passes or making physical mistakes? Not many.
That doesn't even begin to scratch the surface of who Lynch was as a football coach. I can't tell you how many of us went to Coach Lynch whenever we were facing difficult times in our lives.
No matter what he had on his agenda that day, Lynch's office door was open to any of us to go and talk.
This is what has made Lynch the Indiana Football Hall of Fame coach that he is, but his success on the field cannot be ignored.
Prior to his arrival in Greencastle, DePauw's football program had just joined the North Coast Athletic Conference and finished a 2-8 season in 2012, its worst season since 1977.
Lynch took that downward momentum and did something that can only be described as spectacular. He produced a 4-6 record in 2013. Then 7-3 in 2014. And then a three-year stretch from 2015-2017 that yielded a combined record of 24-6 and DePauw's first Monon Bell victory in seven years.
He didn't build the program on flash or even sheer talent. He built it on respect, family and doing the right thing. It was a simple formula for Lynch, but one that went a long way toward his success at DePauw.
Lynch's motto for his teams was "Keep the main thing the main thing." This meant to focus on what was important in your life at that very second and to not get distracted. Sometimes the main thing was football. Sometimes it was academics.
Coach Lynch, it's time for you to keep the main thing the main thing and spend time with your family and watch your grandchildren grow into the amazing people they will surely become. After 40 years of coaching, three Monon Bells and thousands of lives changed, you deserve it.
Brooks Hepp is a 2019 graduate of DePauw University, former editor-in-chief of The DePauw, former DePauw football player, and current reporter at the Battle Creek Enquirer in Battle Creek, Mich.