The Tigers took on the Battling Bishops at home this past weekend. DePauw took an early lead, scoring their first touchdown only one minute and eighteen seconds into the first quarter on a 50-yard pass from Nathan McCahill '25 to Robbie Ballentine '26.
OWU was quick to come back, however, scoring just five minutes and fourteen seconds later to tie the game. For the rest of the first quarter, and most of the second, it seemed as though DePauw had finally met their match, as both teams put up impressive efforts to keep the other from scoring. But that wasn't the case for long –– with just fourteen seconds left in the first half, Caden Whitehead '26 scored on a 3-yard pass from McCahill.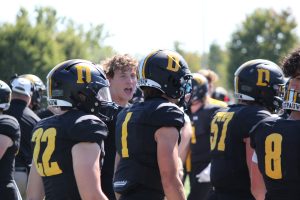 OWU was kept scoreless in the second half, but the never-quitting Tigers continued to grow their lead. In the third quarter, Depauw scored on a 5-yard run by Gus Baumgartner '24 less than ten minutes in. They scored again early in the fourth quarter when Gabe Quigley '24 made a twenty-eight-yard pass to Ballentine, making the final score 28-7.
This win puts DePauw 4-0 overall, and 2-0 in conference. They're scheduled to take on the Oberlin Yeomen at Oberlin next weekend. The Tigers will return home on Saturday, October 7, to take on Denison for Old Gold Weekend.