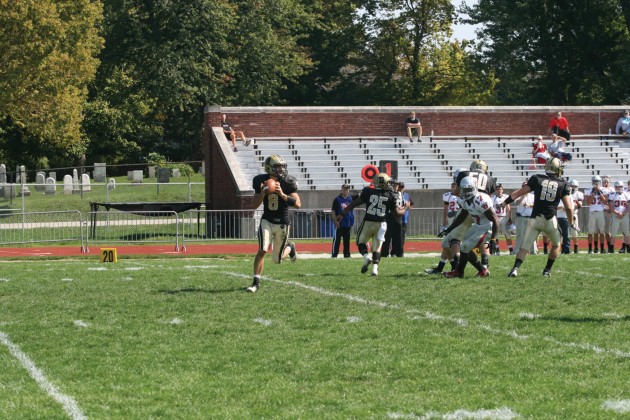 On a Saturday afternoon in Delaware, Ohio, last season, the DePauw Tigers compiled one of their strongest games in a 34-10 victory over Ohio Wesleyan University. Smiles spread throughout the bus after a dominant win, after a fluid Tigers pass attack and overall defense.
This year, both teams are different perhaps spelling a different outcome in this Saturday's matchup between DePauw (1-3) and Ohio Wesleyan (4-0), playing together in the NCAC for the first time.
DePauw comes off a 17-14 win against Washington University in St. Louis at home last Saturday. The Tigers employed a conservative offensive scheme in the second half, but showed they have the ability to sustain drives and throw the ball with freshman quarterback Justin Murray.
"We came out firing on all cylinders [last Saturday]," interim head coach Scott Srnka said on WGRE's Tiger Talk on Wednesday. "The kids believed. They played hard. We were very pleased."
Both Washington University quarterbacks threw deep touchdowns down the right sideline, but besides the pair of passing touchdowns, the Bears offense was stagnant.
"Our linebackers are playing faster," Srnka said. "The defense has put a lot on their shoulders because they see the offense getting better every week."
Ohio Wesleyan will pose a stiffer challenge than Washington University, although their four wins this season are against the same four teams the Battling Bishops beat the entirety of last fall. Ohio Wesleyan features a new head coach, Tom Watts, and bring back multiple members of the receiving corps. Quarterback Mason Espinoza is also one of the country's best passers.
"They are a tough team for sure. It will be great test for us," senior captain Bobby Coburn said on WGRE's Tiger Talk. "It is great we are getting this opportunity now. We have some momentum."
The defensive secondary was a point of weaknesses for Ohio Wesleyan last year. Tigers' quarterback Drew Seaman tossed three touchdowns as a freshman, two to Coburn. But the Battling Bishops bring a tough stack defense to the table this year.
"What we have with our game plan is we are really going to expose those open gaps," said tight end Andrew Cusamano. "I think the running backs will have a big week."
DePauw will look to even their conference record with a win at 1 p.m. on Saturday at Blackstock Stadium.