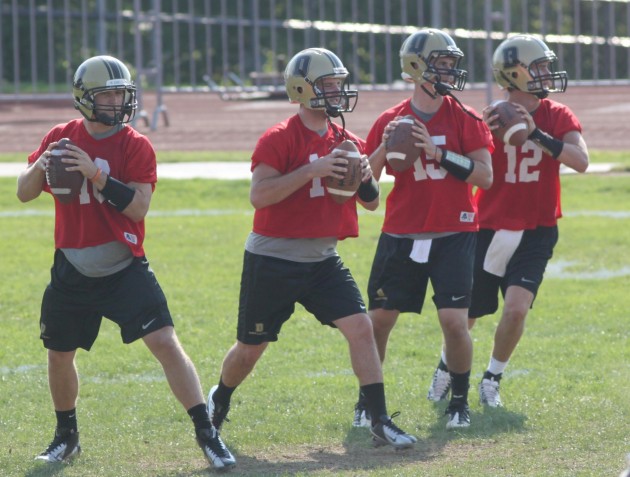 After a 4-5 2011 season that featured four quarterback changes and a road tour that accounted for two-thirds of the schedule, the DePauw Tiger football team forges ahead for a new season as a still-fresh member of the NCAC.
Before a Sept. 15 conference road matchup against Wittenberg University, head coach Robbie Long's DePauw squad locks horns with St. Olaf College on Saturday at 1 p.m. The Oles (1-0) possess an excellent passing attack and will be a solid challenge for the Tigers.
"Looks can be deceiving. [St. Olaf] can run the football," Long said on WGRE's 'Tiger Talk'. "They also have some really big receivers on the outside they use to get down field. They have to get the run game going to set up the play action."
For the Tigers, the most dramatic changes will occur on offense. Sophomore Drew Seaman and freshman Justin Murray are the two options for the starting nod Saturday.
"The two guys at the top are fighting. That's what we've wanted from day one," Long said. "They are both up and down. Everyday and every play we are evaluating them every second."
Seaman started two games last season and exited with a 2-0 record before sustaining a concussion that sidelined him for the remainder of the season.
Contrary to Seaman, Murray is less of a pocket passer and more run-oriented, which he exhibited in a scrimmage against Franklin College Aug. 25. Murray's inconsistent yet promising performances in practice have made the decision to name a starter a tough one for Long.
With a field general battle hanging in the balance, it can't be forgotten that offensive success always starts up front. After graduating two key starters – left guard Lewis Brown and center Mitch Turnbow – the Tigers have gaps to fill on the offensive line.
The Tigers return three starters from last season: senior Jimmy Vann, senior Christopher Lamping and sophomore Craig Neece. A host of others fight for spots upfront, but the most likely situation is a seven to eight man rotation.
"From an offensive perspective, it's going to be completely different," Lamping said. "We've changed up the playbook. We just have a completely different mentality when we step on the field."
On defense, the losses on the line pose questions for a Tiger unit that was stellar against the run. The secondary, that allowed 186 passing yards per game, also looks to make improvements especially with deep-ball pass coverage.
"We are going to play fast, and we are going to get after them," Defensive Coordinator Scott Srnka said. "We are going to play DePauw defense the way it's been played for years."
Saturday's opening contest at Blackstock Field will be broadcasted with live video stream by D3TV and audio from 91.5 WGRE.
DePauw has not lost an opening contest since 2005. The Tigers opened with a 23-13 win against the Rose-Hulman Institute of Technology in 2011.