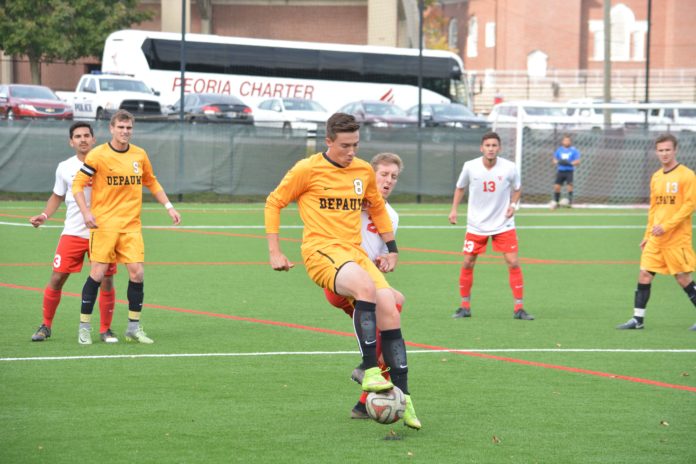 The DePauw University Tigers men's soccer team traveled to Crawfordsville on Tuesday night to face rival Wabash College. The Tigers were bested in a 1-0 contest.
The win was the Little Giant's first against the Tigers since 1999. DePauw leads the all-time series 37-13-3.
Wabash struck the game's only goal with a shot from 35 yards out. Following that, the Tigers weren't able to register any solid chances on net despite some close calls off of corners in the final seconds.
DePauw outshot the Little Giants 13-8, but Wabash tailed more shots on goal which made all the difference in this close rivalry match. The rivalry also brought out a more aggressive match. Both teams combined for 30 fouls and one yellow card.
"It's certainly a disappointing loss, especially since I felt we had the better of play for the majority of the game" said senior goalkeeper, Harrison Glover. "The kid hit a great shot and unfortunately we weren't able to get the equalizer from there. I am still proud of the team for fighting for 90 minutes and luckily we are still in control of our own season."
This game had major ramifications for the conference tournament. With the win, Wabash stays comfortably in second place, while DePauw dangles precariously in fourth. With conference tournament play beginning next week, only the top four teams from regular season play will advance.
A match Monday between first place Kenyon college and fifth place Ohio Wesleyan University ended 2-0 in favor of Kenyon. The win will help the Tigers going into the final game of the regular season on Saturday against Allegheny College.
The Tigers can secure their spot in the tournament with a win over the Gators. They can still advance despite a loss but only if Ohio Wesleyan fails to get a win against Hiram College on Saturday.
Coach Brad Hauter is motivated at the possibility of getting another shot at their rival. "They're a very good team and that's a tough place to play," said Coach Hauter. "If we take care of business Saturday we may get to face them again."
Coach Hauter definitely isn't worried about his team going forward. "This team has bounced back after every setback and I expect us to do it again."
The Tigers face Allegheny on Saturday at 2:30 p.m. in  Reavis Stadium.