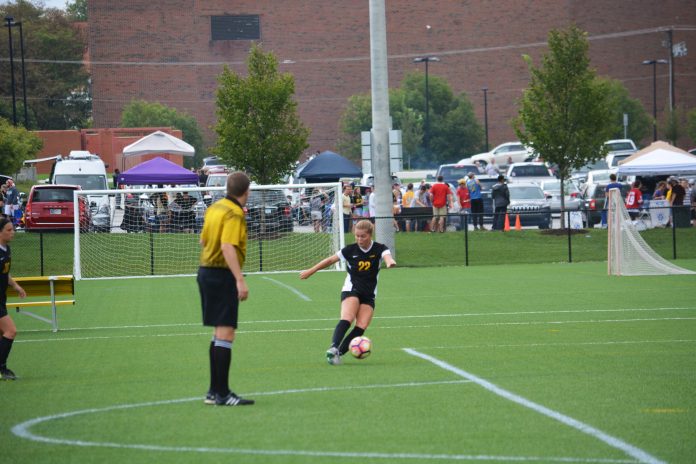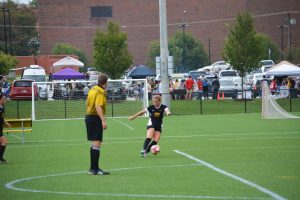 The DePauw University's women's soccer team handily defeated the visiting Rose-Hulman Institute of Technology Engineers, 5-0 Saturday. The win keeps the Tigers undefeated and advances them to a record of 4-0.
The Tigers put numbers on the board early, scoring their first goal within the first 15 minutes of the opening half. The goal was scored off a free kick just outside of the box by first year midfielder Alex Berkley. This was Berkley's second goal of the season.
It would take the Tigers until the 39 minute mark before the lead was doubled by sophomore forward Bailey Ehrens who scored off an assist from senior forward Elizabeth Sewer. It was the first goal of Ehrens collegiate career.
"Scoring my first official collegiate goal was awesome. I was happy that I could increase the lead for our team, and my parents were in the stands, so it was fun to see how excited they got when I scored," said Ehrens about the milestone.
DePauw would go into halftime with a 2-0 lead.
The Tigers would add to the lead four minutes after the break with a goal from first-year forward Shaili Kumar. This was Kumar's fourth goal in as many games.
"Shaili has been doing incredible, and it's so fun to watch her play. We had some trouble finishing last season, so having someone to score goals the way she does is definitely going to help our team," said Ehrens.
The Tigers added two more goals within five minutes of each other late in the second half. Junior forward Kathryn Ruark easily beat her defender, putting the ball in the back of the net for her third of the season. Not long after, sophomore forward Paige Renfus also scored her first collegiate goal from an assist by sophomore defender Mallory Dillion.
"Being out last season due to an injury made that moment even more exciting because it was something I've been waiting for," said Renfus. "I think our team chemistry and our determination to reach our common goals inspires us to do our best during each practice and game. There is so much talent and mental tenacity on the team which shows during our games."
The women hope to maintain their undefeated season tonight as they host the Franklin College Grizzlies at Reavis stadium at 7 p.m. Following that the Lady Tigers have two more matches before they open NCAC play against Oberlin College on Sept. 24.