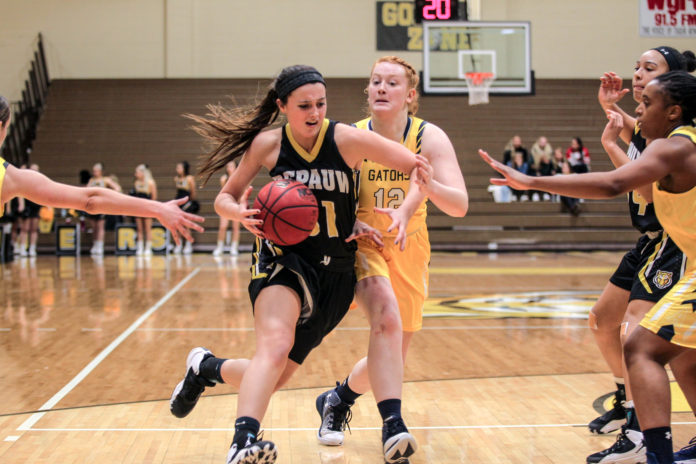 The 11th-ranked DePauw University Tigers took on Hiram College and Allegheny College this past weekend,
gaining further momentum by picking up their 18th straight win.
The weekend started out on Friday, taking down the Terriers with a 61-50 win, advancing the Tigers to 20-1 record overall and 12-0 in conference play. The Terriers fell to 15-6 overall and 7-5 in conference play. The win was DePauw's 17th straight, and provided them with their 16th consecutive 20-
win season.
Within the opening four minutes, Hiram broke out to a 10-6 lead. The Tigers followed this with an 11-0 run, as junior Emily Budde scored six, senior Claire Ryan adding three, and sophomore Maya Howard notching two. By halftime, the Tigers led Hiram 27-17.
At the third quarter, the Tigers held a 36-22 advantage, but the Terriers caught up to 38-35 with 3:00 remaining. Hiram's Mercedes Jones and Kaylee Shockley contributed to all 13 Hiram points. DePauw immediately propelled the lead back to 10 points and directed to the fourth quarter with a 47-39 lead.
Howard hit a three with 8:17 remaining in the game, stretching DePauw's lead to 10 points at 52-42. After a scoreless three minutes, Hiram cut the lead to 52-49 with 3:28 left. Howard responded with a cut through the lane for a layup, extending the lead to five. With 48 seconds left, the Tigers led 57-49.
Howard headed DePauw with 22 points and four assists, while Ryan brought in 18 points, seven rebounds and six steals. Budde notched 11 points, while Melinda Franke clutched a game-high nine rebounds. DePauw shot 40.7 percent for the game, while Hiram shot 37.8 percent.
The Tigers continued the weekend on Saturday against Allegheny by shooting 50 percent and committing only five turnovers in a 99-54 conference win. The Tigers advanced to 21-1 overall and 13-0 in the North Coast Athletic Conference, while collecting an 18th straight win. The Gators lowered to 3-18 overall and 1-11 in conference play.
DePauw clinched a 27-12 lead after the first quarter. Sophomore Blair Carlin initiated the run with a three-pointer, as junior Kylie Morris followed with a three-point play and senior Claire Ryan with a layup off her own steal.
After Carlin hit another three-pointer, junior Melinda Franke and Ryan followed by combining to push the score to a 34-12 DePauw lead.
Allegheny's Delaney Arbore countered with a three-pointer, but DePauw fired back 13 straight points with five different players scoring, giving the Tigers a 47-15 advantage. Senior Lex Gaumer paced the Tigers with four points. At halftime, the Tigers held a 51-20 lead over the Gators.
Morris fastened a double-double with career highs of 14 points and 11 rebounds, while Ryan matched her 14 points. Senior Taylor Howard added 12, while Gaumer highlighted career highs with nine points, six rebounds and five assists.
"Lex Gaumer played her heart out of Saturday," recognized freshman Julia Keesling. "You could see the passion she has for the game, and the love she has for her team through her play. Sad to think she is a senior. All three seniors will be missed dearly."
Arbore paced Allegheny with 19 points followed by Zoe Soilis with 16 and a team-high seven rebound. Jazmen Moore dished out four assists.
DePauw hit 41-of-82 shots, while Allegheny had a 28.4 shot percentage. The Tigers closed the game with a season-low five turnovers to the Gators' 14.
The Tigers have a tough final leg of NCAC play where they get challenged against the second and third ranked NCAC teams, Kenyon College and Denison University, in their final three games.
"Our remaining opponents for this season are all contenders in the NCAC so we have been working hard to get our offense and defense in a rhythm to ensure that we are at our best with tough games to close the regular season, and then to jump right into the conference tournament," Ryan said.
Freshman Hannah Swarm was impressed with the weekend performances, but knows there is still room for the team to improve. "On Friday night, there were points during the game where we struggled, but we came together as a team and worked through it to get a big win," Swarm said. "On Saturday, I thought it was a great overall team performance. We shared the ball well and everyone got in on the action."
The Tigers look to extend their winning streak on Wednesday, Feb. 8, as they host Denison at 6 p.m.