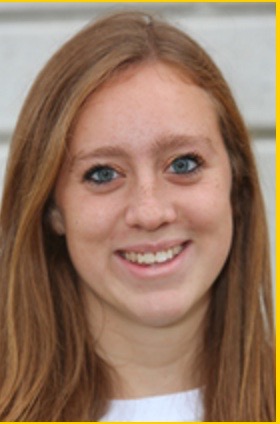 Angela Newlon broke another pool record and notched an NCAA "B" cut after winning the 500-yard freestyle in 4:51.88. She broke her personal record of 4:53.43 which she set in the preliminaries. Newlon won the 1,650-yard freestyle in 16:52.33 and set a University of Chicago pool record, while establishing an NCAA "B" cut. Newlon was also named NCAC Women's Swimmer of Week on Nov. 21 and the Tigers get ready to swim Jan. 1 in the St. Pete Classic. At last year's Division III National Championships, Newlon placed third in the 1,650-yard freestyle and fourth in the 500-yard freestyle.
TDP: Could you talk about your success last season?
Newlon: Last season I was really happy, it was definitely my most successful season at DePauw. I put in a lot of hard work the summer leading up to it and I think it was the hardest training we had done since I had been at DePauw.
TDP: How has the addition of new coach Shea Davisson been?
Newlon: We adjusted to her really well and we've really grown together as a team around her and we've definitely seen the results already. Having a new coach, we're going to have different training, different weight routines, and that change definitely yields different results. It's interesting to have that change your senior year because it can become a grind and you can get burnt out. The fact that we have a new coach and a new training program makes it seem brand new and excites you to get in the pool.
TDP: Although swimming is individual, how has the team affected you?
Newlon: We have a really good team dynamic. We get each other through all the different sets and practices. We always motivate each other whenever practices get really demanding. Most of all, we have really great deck presence. I always see my teammates at the edge of the pool cheering for me as loud as they can.
TDP: What were your expectations for this season?
Newlon: I was really nervous because I had such a good season [last year]. I wasn't sure if I could drop more time from my results last year. I want to work as hard as I can. I was just hoping to have fun and to do well. My expectations are always high but I understand that it'll be okay if I don't have the same success. I'm not complacent but I try not to think about it too much. I definitely think as we've swum more, we've gotten better. My times have dropped and I've swam stronger. In comparison to our first duel meet, I'm definitely more tired.
TDP: What has your biggest accomplishment throughout your career?
Newlon: Our biggest team accomplishment was conference last year when six of us qualified for nationals. That was really exciting. We had a great conference meet and we swam well against Kenyon and Denison, and they are really competitive.
TDP: As a senior, what is your interaction with the freshmen on the team like?
Newlon: I really like our freshman class. We have a different range of talent and they're fast too. They push us, but they are great teammates and super supportive. They give us great strength on our relays and although swimming is individual events, it's still a team sport.