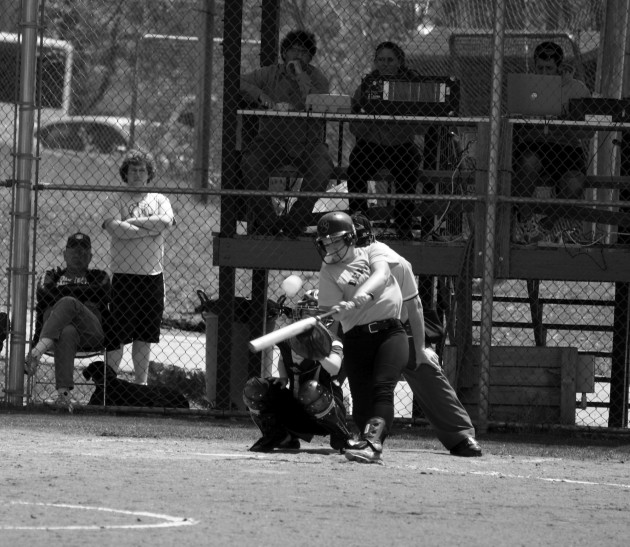 The Tiger softball team (27-8-1) had a busy Saturday as the team faced Washington University in St. Louis (29-10-1) in a doubleheader, celebrated the final home game for their three seniors and participated in the National Fastpitch Coaches Association "Strike out Cancer" fundraiser.
Against Wash U., the team demonstrated power not yet seen this season. Both teams hit a total of eight homeruns as weather conditions favored hitters for virtually the first time all year. In game one, the Tigers were powered by junior Haley Buchanan's two homeruns, including a grand slam, and sophomore Amy Hallett's two-run homerun for an 8-2 victory.
Senior Emma Minx also hit a two-run homerun in the bottom half of the seventh inning of game two. However, game two was Wash U.'s turn to flex their power-hitting muscles. The Bears hit three out of four homeruns to center field and were able to win the slugfest 8-7.
With wind blowing at the backs of the hitters out to center field, fly balls were carried an extra 10-20 feet over the fence.
"Washington came in to the game with 35 homeruns hit on the season so they were going to hit," said head coach Bonnie Skrenta. "But that wind on our field was going straight out, with a few missed pitches that were left up in the zone a little bit high, we made some mistakes too."
The two games marked the end of the regular season for the Tigers, who will head to the NCAA regional playoffs. DePauw was guaranteed a spot in the regional tournament with their SCAC title victory last week. It will be the team's fourth-straight NCAA appearance.
Coach Skrenta said that even though the Tigers were guaranteed that postseason spot, their two games were important in trying out different techniques and strategies against a very talented Wash U. team, while at the same time, retaining a No. 2 or 3 seed for the regional tournament.
"The games were really good to help us prepare for the regional tournament," Skrenta said. "I asked [catcher] Amy Hallett and [sophomore pitcher] Emily Bichler to do some different things pitching-wise and catching-wise. I just wanted them to take risks to get batters off their timing. I knew mistakes would happen. It worked sometimes and other times it didn't."
Before the start of game two, DePauw's seniors — Emma Minx, Brianne Weeks and Ashlee Anton — were recognized on the field with their families. As a class, they have won three SCAC titles and have participated in the NCAA tournament in each of their four years. They have compiled a 139-30-1 overall record including a 48-5 home record and are 48-6 in SCAC games.
Anton's career, although she was sidelined for much of this season with back problems, is highlighted by her consistency at the plate and at first base. She is a career .327 hitter and holds a .992 fielding percentage. On her academic side, she has been named to the SCAC academic honor roll in each of her three years and this season, Anton received a Fulbright Scholarship.
"This game has brought me so much over my life time, and I am so happy that I can finish my career here at DePauw," Anton said. "I still was able to do all of the things I wanted to do in my life at DePauw, but if I wasn't on the team, I would have been missing a part of myself."
Weeks, a four-year starter, is DePauw's record holder in at-bats (541) and sacrifice bunts (35) and is second on the stolen base list with 35. While her strength is in the short game as a a slap hitter and a bunter, Weeks has developed her hitting this season and her batting average has jumped from .247 last year to .398. She hit her first homerun of her career last week in DePauw's 9-0 win over Centre College in the first game of the SCAC tournament.
Minx, who bats in the important fourth spot in Skrenta's lineup, holds DePauw's records in triples (11), homeruns (19) and is second in both doubles (40) and RBIs (141). She is batting .432 this season and leads the team with 52 RBIs. Defensively at second base, she has made an incredible improvement, committing just one error thus far to last year's eight.
"Their leadership has been exemplary," Skrenta said of her three seniors. "Some years, we have to do individual meetings, and we haven't had to do that because these girls are talking and telling their teammates what they need to do."
The seniors' leadership and the team's dedication were most recently showed in their participation in the NFCA "Strike out Cancer" fundraiser for cancer awareness and research.
"It was definitely successful in getting the word out and giving the girls a chance to learn how to hold one of these fundraisers," Skrenta said. "This was the first one ever, they wanted to do it so badly, and I'm glad they did."
The team is still accepting pledges of support and should have all proceeds gathered by Wednesday.