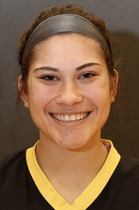 The DePauw: When did you start playing basketball?
Sydney Kopp: I played softball competitively my whole life, and then I switched over [to basketball] really seriously. I played through middle school, but I joined travel and really only focused on basketball when high school started. 
TDP: How do you feel about the rest of your basketball season? 
SK: We've started really well, and our strength of schedule has probably been by far the hardest since I've been here with these beginning games we've had so far and with conference starting tomorrow. I think that we're definitely more prepared than we ever have been because we've played such difficult teams to begin the season and we've kept up with them. We've won every game but one, so I think that we're definitely excited to start conference play and ready for the challenge. Every team comes after us hard because they want to beat the ranked DePauw team. 
TDP: What are your individual and team goals for the season? 
SK: Team goal, obviously, [to] win conference and win the conference tournament so that we can achieve our ultimate goal which is always the national championship. Then individual goal, I guess it's really just to do whatever I can to help the team win. I'm happy with my performance so far and would love to be an All-American by the end of my career.
TDP: How do you feel about being named National DIII Basketball Player of the Week? 
SK: I didn't even know it was a thing, to be honest. It's awesome just to see that my performance is being recognized on a national level for all of Division III. It came with two huge wins this weekend against two ranked teams, so that was the biggest outcome of the weekend, but getting that [National Basketball Player of the Week] along with it is just an added bonus. 
TDP: Are there any professional athletes you admire? 
SK: Sabrina Ionescu—which is a women's player on Oregon [team]. She's insane. She should be in the professional league. So, that's probably by far my favorite women's player and then men's you know, just kind of typical Steph Curry, but Luka Dončić I've been watching a lot recently.