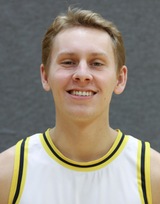 Sophomore Nick Felke scored a career-high 27 points in a win over 18th-ranked Wabash College last week. He averages 10.8 points, 4.5 rebounds and 2.7 assists per game this year. He is this week's Tiger of the Week.
TDP: You shot 11-13 from the field with 27 points against Wabash last week. What allowed you to be so effective?
NF: I just wanted to be aggressive early and get going to the basket and it worked so I just kept doing it. The big home crowd gave us a big energy boost so that helped a lot as well.
TDP: What are your goals for the remainder of the year? Individually and as a team?
NF: Any goal for any team is to win every game they play so I don't see why that shouldn't be our goal. Win the conference tournament for a chance to play in the NCAA tourney.
TDP: What made you fall in love with playing basketball?
NF: I think I initially enjoyed basketball as a kid because you can play it all year, indoors or outdoors, so it was easy for me to enjoy it.
TDP: Did you always know you were going to play college basketball?
NF: I didn't start thinking about playing in college until high school, and I chose to play for a multitude of reasons.
TDP: Do you try to model your game after any player?
NF: I don't really try to model my game after anyone, but my teammates say I play like an old man and Tony Parker is old, so maybe I play like him.