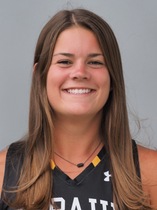 Kate Milner, a senior on the DePauw Women's field hockey team, scored two goals during their game against Earlham College to help the Tigers win their last regular season game. She was also named NCAC Field Hockey Athlete of the Week for the second time this season.  
The DePauw: You scored two goals, including the game-winner in the field hockey team's win over Earlham. What allowed you to be so effective?
Kate Milner: In the Earlham game, even though we were down 2-0, the team and I stayed calm and stuck to our game plan. We also were able to execute on our corners which made a big difference.
TDP:  What are your goals going into the postseason both individually and as a team? 
KM: As a team, our goal was to make it to the post-season tournament and now that we are here we want to make it to the championship game. Personally, I want to make the most of my minutes in these last opportunities that I have on this team.
TDP: What made you fall in love with field hockey?
KM: I love how field hockey is such a team sport and support among teammates on and off the field really makes a good team.
TDP:  Did you always know you were going to play field hockey in college?
KM: I decided my junior year of high school that I wanted to play field hockey in college.
TDP:  Do you try to model your game after any professional athlete?
KM: No, but I've always looked up to the women's national soccer team as role models.