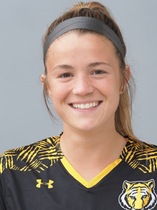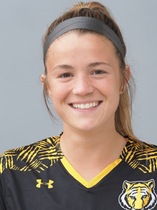 The DePauw: You were nominated NCAC Women's Soccer Player of the Week. What allowed you to be so effective?
Jenna McCarroll: The biggest factor in how effectively I play is the support I receive from my teammates and the coaching staff. Day in and day out, every member on our team puts in their full effort to make each other better with a coaching staff pushing behind us each step of the way. When I step on the field, I have the confidence in myself and my teammates to get the job done and come out with a "W."
TDP: What are your goals for the remainder of the year? Individually and as a team?
JM: My individual goals for the remainder of the year are to uphold my level of play. We are moving into conference season, and I plan to push myself as far as I need to for our team to be successful. As for team goals, we would love to make an appearance in the NCAA tournament and come out of conference season above 500.
TDP: What made you fall in love with soccer?
JM: I've been playing soccer since I was four years old. Eighteen years later, I still love the game just as much, if not more than when I started. There isn't a way to articulate what soccer means to me. It has shaped the woman I am today. It has taught me how strong I can be mentally and physically, how to never give up, how important the relationships you form with the people around you are and so much more. I will always love and respect the game.
TDP: Did you always know you were going to play soccer in college?
JM: No. I didn't decide I was going to play until my senior year of high school. I was personally having a good "final" season and began picturing what my life would be like without soccer. I simply couldn't. It was something I wasn't ready or willing to give up. So, I began reaching out to coaches and the DePauw women's soccer coach at the time took an interest in my style of play and recruited me.
TDP: Do you try to model your game after any professional soccer player?
JM: The U.S. Womens' National Team, especially with their recent World Cup title, has always been a source of inspiration for me throughout my soccer career. I can't say that I model my style of play after a professional player in particular, but rather playing with the same love, intensity and bite that all the U.S. Womens' National Team players have each game.