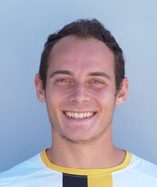 1) You scored three goals, the first hat trick of your career, in your 11-0 win over Anderson. What helped you be so effective?
As a senior and a captain this year, the coach looks to me to lead our offense. I worked hard all summer with the dream of scoring tons of goals and helping our team to win a national championship this season. Anderson was our first home game and I just told myself pregame that I needed to be sharp when the opportunity to attack presented itself, and I did just that with my first hat trick in my time at DePauw.
2) What are your goals for the remainder of the year? Individually and as a team?
This year we have a fantastic team and our goal is to win conference and then win a national championship. My personal goal is to be a first team all-conference player and to be a great leader for my time.
3) What made you fall in love with soccer?
I fell in love with soccer from an early age. Growing up, I played tons of different sports, but soccer has always been special for me. I just feel the most comfortable in life when I'm on the field during a game or practice. All the other worries in life just seem to melt away.
4) Did you always know you were going to play soccer in college?
I think I decided I was going to play college soccer my freshman year of high school. I don't remember thinking about it in middle school, but once I saw that I could stand out at the high school level, I started pushing myself more and more.
5) Do you try to model your game after and professional soccer player?
I don't model my game after any professional player. I stay true to what I know I am the best at in soccer. After I graduate I plan to pursue my own professional soccer career though, so studying the professional players in my position is crucial for learning higher-level thinking, speed of play and decision making.