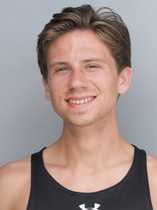 The DePauw: You won the Loyola Invitational in Chicago and received NCAC runner of the week a few weeks ago. What allowed you to be so effective?
Cole Martin: I would give the credit to the coaching staff. Kori has been pretty patient and has given me time to recover from some of the harder training, saving my best for later on in the season.
TDP: What are your goals for the remainder of the year? Individually and as a team?
CM: The biggest goal for us as a team is to make it back to nationals. We're much deeper than we have been in previous years, but so is the competition. It's just a matter of executing on the right day. For me personally, I'd like for my best race to be my last one this year.
TDP: What made you fall in love with running cross country?
CM: I love running because of the people I do it with. My teammates at both the high school and the college level have been supportive in ways that I couldn't have ever imagined.
TDP: Did you always know you were going to run distance in college?
CM: I didn't think I would run collegiate cross country until I committed to DePauw. This was the only school I was considering running at. Needless to say, I'm pretty happy about where I ended up. 
TDP: Do you try to model your game after any professional athlete?
CM: Honestly, I'm a big basketball fan. When I think about my season, while the rest of the races are important to an extent, I want my nationals performance to mirror Lebron's game one in the 2018 finals – strategic, surprising, persistent. For me to do that and catch everyone off guard like he did, would give me a good chance at achieving my goals.