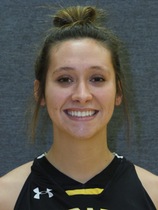 Sophomore forward Claire Keefe averaged 10.5 points, 4.5 rebounds, and 2.5 assists over the weekend as the women's basketball team defeated Hiram College 69-52 and Allegheny College 93-56. Keefe, the reigning North Coast Athletic Conference (NCAC) Newcomer of the Year, helped improve the Tigers' record to 18-4 overall and 11-1 in the NCAC with her performances. She is this week's Tiger of the Week.
TDP: You scored double digits in both games this weekend. What allowed you to be so effective?
CK: I think the help from my coach and my teammate Hayley has helped me with my confidence a lot. We have some individual practices outside of team ones that have really helped me step up and become more of a versatile player. Hayley has always been very vocal with me and is not afraid to help me reach my best abilities.
TDP: You've started this year 18-4 and 11-1 in the NCAC. How has this year lived up to your preseason expectations?
CK: I am so incredibly proud of this team. It has exceeded expectations since we are so young. Good thing we still have at least a few more to go so we can finish off the season just as strong as we started.
TDP: What are your goals for the remainder of the year? Individually and as a team?
CK: To win the conference tournament and win a national title.
TDP: What made you fall in love with playing basketball?
CK: Kelly, my twin, was a big part of it. She told me to join the sport in fifth grade, and I have been in love with it ever since. Unfortunately, she has been out of basketball since our freshman year of high school due to a reconstructive spinal surgery, but she is now our manager, and l love having her there with me.
TDP: Did you always know you were going to play college basketball?
CK: Yes. Both of my brothers played college sports, and I knew I wanted to take the same path as they did with athletics.
TDP: Do you try to model your game after any player?
CK: I do not. I just try my best and hope we can get a W every game!