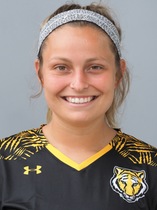 You scored three goals in your 4-0 win over Wisconsin-Whitewater. What allowed you to be so effective? 
As a team, we were most effective once we found our composure and found feet. All three of my goals were set up by great passes that put me in a position to score. I also really focused on keeping the ball low and driven which we worked on in practice leading up to the games. 
2. What are your goals for the remainder of the year? Individually and as a team? 
A goal I have for myself for the remainder of the year is to keep making an impact offensively whether that be creating opportunities to score or scoring myself. As a team, we want to get better each game and so far, we have done that. Since I have been at DePauw, we have not made it to the NCAC tournament and that is definitely something we want to accomplish this year.
3. What made you fall in love with soccer? 
I fell in love with soccer because while I am playing nothing else is on my mind. It is a place for me to destress and not have to think as much and that has always brought me joy.
4. Did you always know you were going to play soccer in college? 
I didn't always know I was going to play soccer in college, I did not decide until April of my senior year of high school, but I am very happy with the decision I made.
5. Do you try to model your game after any professional soccer player? 
To be quite honest, I do not watch as much professional soccer as I should so I don't have any particular player that I try to model my game after.