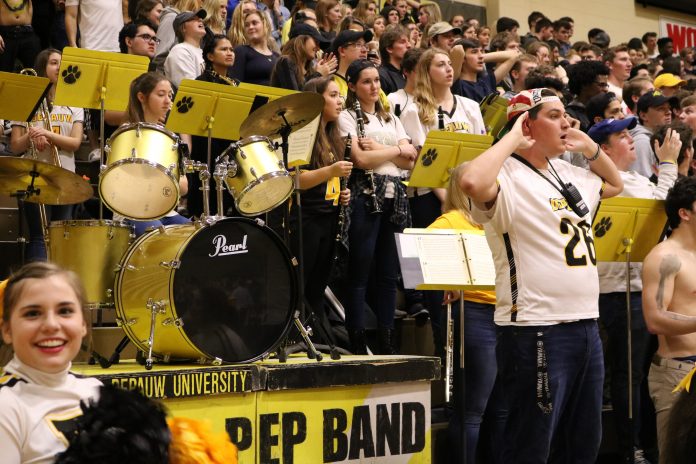 By Thomas Curdt
The story was updated 2/10/19 at 3:10pm.
Students at Wednesday's basketball games might have been surprised to see (and hear) a new addition to the student section. Under the direction of sophomore, Jon Tebbe, the Tiger Pep Band played for both the men's and women's teams from the stands.
Tebbe joined the pep band after first-year music student, Philip Lehr, asked him to.
"My job comes on game days and in rehearsals. I stand up and direct and make sure the music sounds good," said Tebbe. "I wear a walkie talkie to communicate with them and the scores table to figure out when we can play."
Lehr started planning to start a pep band back in August, and it has since grown to twenty current members.
"When I first got here, I noticed that the school did not have a pep band. It was one of the favorite things that I did in high school and I just wanted to bring that to the school," said Lehr. "After asking around, I realized a lot of friends also wanted to do this."
First-year flutist, Matt Starkael also joined the pep band after being asked by Lehr. "I enjoy playing in the pep band because it allows me to meet new people, go to the sporting events, and still be able to play music. I like being able to show my school spirit in a musical and athletic setting," said Starkael.
While the pep band takes some experience to join, you do not have to be in the School of Music to participate. In fact, only about a third of the group is actually currently studying music.
"We take people of all experience," said Lehr. "For example, we have one player who's been playing their instrument for two months, and they've been playing and having a great time."
The group is entirely student-led and rehearses for an hour every week in the GCPA. They also recently received new jerseys to wear during games. Tebbe usually directs the weekly rehearsals.
"It's been a really good outlet for me to just go and have some fun playing," said Tebbe. "It's good to remember that why I do music is for the fun of it and not just all the stuff I have to do with school. And it's fun to cheer on the teams...especially when we beat Wabash."
The Tiger Pep Band will play their last game on Saturday, Feb. 16 against Wooster. If you have any interest in joining, please contact Philip Lehr.