The DePauw Tigers football team made history on Saturday in their 33-30 victory at the 129th Monon Bell Classic in Crawfordsville. This win made DePauw the outright champions in the NCAC, making it their third consecutive conference title. The Tigers record improved to 10-0, and they became the first team in program history to win 10 games in a single season. DePauw has only ever been to Wabash two times before as an undefeated team, and in both games the Tigers came up short. For the first time ever, a Monon Bell game went into overtime, but just one extra period wasn't going to cut it––it took two.
After regulation play concluded, the score was 27-27. DePauw got the ball first in overtime. However, after a first down picked up by Gus Baumgartner '24, the Tigers turned the ball over with a fumble recovery by Wabash.
The Little Giants had no luck getting into the endzone during their turn in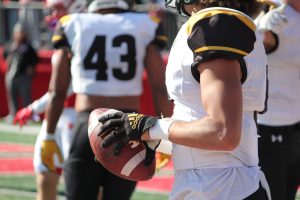 overtime and were forced to attempt a 33-yard field goal. Every DePauw fan held their breath, and Ethan Lowry '24 became a DePauw hero when he blocked the kick to keep the Tigers alive.
Wabash took the ball first in the second overtime and on the third down quarterback Liam Thompson had no option other than to run, but he came up short of a first down. Brody Rucker came out and kicked a 41-yard field goal putting Wabash up 30-27.]
Knowing post-season play, the outright conference title, and the bell was on the line, the Tigers came out firing. After Nathan McCahill's '25 completed passes to Robby Ballentine '26 and Gabe Quigley '24 to get a first down for the Tigers, McCahill found William Kaster '26, and with a leap into the end zone, sealed the victory. DePauw fans erupted and rushed the field to celebrate the back-to-back Monon Bell victory.
Editor's Note: The full 129th Monon Bell Classic Recap will be in print and online on Wednesday, November 15.