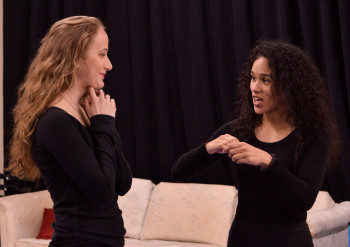 Felicia Santiago, director of last week's production of Brainpeople, is not simply a lover of theater, but an educator, a killer kickboxer, and a DePauw alum!
While at DePauw, Santiago was a Posse Scholar and Bonner Scholar and majored in psychology. She also coordinated and participated in community service activities. She even wrote an article for The DePauw about a Shakespearean theater program in Ghana that she took part in the summer before her senior year.
While Santiago was busy with those activities, her main passion was the stage, whether managing backstage or acting front and center. Santiago participated in a couple DePauw productions, but because "DePauw wasn't trying to have people of color acting," she found it difficult to obtain a leading role. However, Wabash College gladly accepted Santiago into their theatre world, where she starred in at least five productions during her time in Indiana.
After graduating, Santiago moved on to her hometown, New York. There, Santiago studied at New York University, earning a masters in educational theater. While at NYU, she did cross-cultural theater research during an eye-opening trip to Ireland. Upon graduation from NYU, Santiago began teaching and giving theater workshops while undergoing training at Atlantic Conservatory. She has also continued acting, most recently landing a role as Carina Garcia in "Advances" at The Players Theatre in New York.
Professor Deborah Geis, who taught at DePauw while Santiago was a student, said, "It has been marvelous to see Felicia go from being a talented theatre student when I knew her at DePauw to becoming an accomplished theatre professional."
This past winter term, Santiago returned to DePauw to direct José Rivera's "Brainpeople," over just two intense weeks. Santiago worked one-on-one with each actor in order to ensure they could capture their characters' personas to their fullest ability. 
Chloé Johnson '22, who played Mayannah in the play, said, "I am thrilled to be working with Ms. Felicia Santiago as a director. She is a force! She inspires me to take on leadership, to be thoughtful on stage, and to take up all of the space. Most of all, she is so humble and very passionate about the work that she does."
Expressing how she felt working with a diverse, all-female cast, Santiago said, "I think that the most rewarding thing is to say 'Here are all of the tools and I want you to feel empowered and just go and live your best life on stage. It's not about acting, it's about being, and there are so few times in life where women can actually take up all of the space that they deserve… People are here because they agree that you deserve that space, so take it."