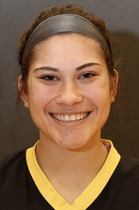 Junior basketball player Sydney Kopp was named to the North Coast Athletic Conference (NCAC) all-conference tournament team after averaging 11 points per game in the team's championship run. She is this week's Tiger of the Week.
TDP.) You were named all-conference tournament team. What allowed you to be so effective all season and thus far in the tourney?
SK.) I think the hard work that our whole team has been putting in since the preseason and every day at practice is what allowed us to have the record and strong season that we have had.
TDP.) You've recently won the conference championship. How has this year lived up to your preseason expectations?
SK.) We definitely went in with a goal of winning conference and the conference tournament, but we all definitely have much higher goals that begin this weekend at the national tournament, so we're not satisfied with what we have accomplished just yet.
TDP.) What made you fall in love with playing basketball?
SK.) I fell in love with the game in high school because I loved the pace of the game compared to other sports and loved just working on shooting and dribbling and continuously seeing improvements.
TDP.) Did you always know you were going to play college basketball?
SK.) I always knew I wanted to play a college sport, but I originally thought it was going to be softball up until my sophomore year in high school. That's when I decided to completely focus on the sport I was most passionate about, which is basketball.
TDP.) Do you try to model your game after any player?
SK.) I don't necessarily model my game after any player, but I love watching college and NBA basketball so I try to implement good moves and plays that I see when I can.