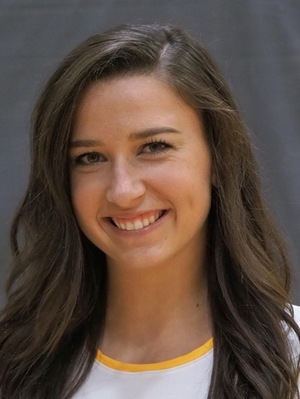 On March 5, senior Suzanne Peters was one of 42 college athletes to receive the NCAA's postgraduate scholarship, which is awarded to student athletes who excel academically and athletically.
Peters is one of only 21 females to receive the scholarship across all three NCAA divisions. She will be using her scholarship towards her Doctorate of Physical Therapy Degree at Regis University in Denver, Colorado next year.
Peters said that receiving this scholarship made her reflect on her entire DePauw experience, on and off the court.
"Any D3 athlete can tell you they do not compete for money or glory, it is truly all passion that propels you through four years of competing. To me, this scholarship is a capstone to my academic and athletic career at DePauw and reflects the unique ability to be involved in so much more than sports at this level," Peters said, adding that she would not have been able to afford to go to Regis if it wasn't for this scholarship.
Head Coach Deb Zellers, who is in charge of the NCAA Postgraduate Scholarship process, nominated Peters for the award along with two kinesiology professors and athletic director Stevie Baker Watson, who wrote recommendation letters. In order to qualify, the nominee needs to be both a high achieving academic student and athletic competitor, and the athlete must have at least earned all-conference honors. He or she also has to be involved on and off campus outside of academics and athletics.
Peters was selected as a third-team academic all-American and as a third-team athletic all-American through the American Volleyball Coaches Association.
"Suzanne is just the second person in our program to get all-American honors athletically, and to my knowledge, maybe the first academic all-American that we've had," Zellers said. "Definitely the first NCAA Postgraduate Scholar we've had as well."
Peters has been a starter on the court all four years of her college athletic career, and in the past three, the team has been in the national tournament. Zellers believes Peters has been the driving force for that success.
"Our team success has been somewhat reflective of Suzanne's success," Zellers said.
Peters was also voted NCAC Player of the Year this past season, which is another first in the most recent years of the program.
Peters said that she never would have expected to receive such an honor four years ago, and she has DePauw volleyball to thank for that.
"DePauw volleyball has shaped me into a person that freshmen year me would be extremely proud of," Peters said.