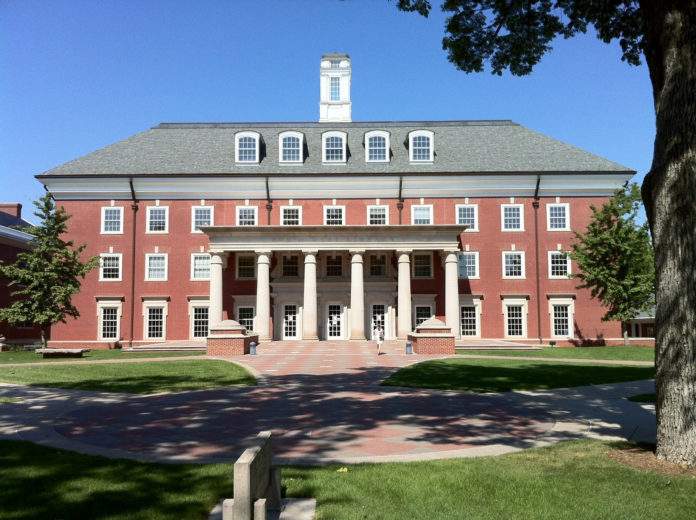 A suspicious male was arrested for disorderly conduct and public intoxication after various students reported him to Public Safety on Wednesday, March 1. The man was reportedly threatening to kill someone. At no point in the evening was a campus-wide alert sent out.
The first call to Public Safety reporting a suspicious man, later identified as Christopher Monnett, was at 9:53 p.m., said Director of Public Safety, Angela Nally. The dispatcher was on the phone with the person for about six minutes and she shared information about a drunk and disorderly person who had been in the Rector Village lot, had been by Mason Hall, and was headed towards the Union Building. The caller said Monnett appeared intoxicated and had tried the door to Mason and then moved on.
The officer en route requested Greencastle Police DePartment (GPD) to assist in looking for this person and at 9:58 p.m. the officer was on foot in the area trying to locate Monnett. At 10:03 p.m. the Public Safety officer and GPD officers were still on foot in that area unable to locate Monnett at 10:07 p.m..
From security cameras at Roy O. West Library, Nally said the man entered Roy at 10:09pm and left at 10:12pm. During this time, the suspicious man had interactions with at least two students. Senior Lizzy Gering was studying on the first floor when Monnett, who looked to be at least 40 years old walked by her table wearing jeans and a black leather jacket.
When Gering saw the man approach her, she felt she had to leave the library. "For some reason I knew I was not okay and I had a fight or flight response I guess, and my instinct was flight," said Gering, "so I scooped all my stuff into my backpack in a hurry and threw my coat on and stood up to go because I felt I just needed to get out of the situation."
As Gering was leaving the library, she went to speak to the student working at the desk, told them what she had seen, and suggested they call someone to report the incident. Before she reported it, senior John Jessup, who had been studying with Gering at the time, attempted to talk to Monnett. "He was obviously drunk and reeked of alcohol," Jessup said.
After Monnett left Roy, Gering called Public Safety to report him, but could not get ahold of them. A few minutes later, Public Safety answered the phone and Gering told them she wanted to report a suspicious person. However, minutes later, Gering's friend told her a student had an interaction with Monnett and he said "I'm going to kill someone, not you though."
Public Safety did not get a call about that threat until 10:24 p.m. when the caller was already at their residence hall. When they received this call they sent an officer to Roy in order to investigate what happened. "If you're looking at it from the perspective of the officer, they have not received any new information since 9:59 p.m. and now it's 10:24 p.m. and this is the first time anyone's mentioned he's made any threatening comments," Nally said.
The dispatcher informed the officer on Hanna Street near Rector Village of Monnett's whereabouts. He proceeded down Hanna Street and made it to Olin when the dispatcher called again to say she had gotten a call from another student in Reese who said Monnett was there.
Around 10:20 p.m., a student who chooses to remain unnamed due to safety concerns, was leaving her living unit walking past Rector Village when she saw Monnett trying to enter Warne Hall by shaking the door handle. The student said Monnett was screaming and cursing, which made her feel uneasy.
"I started moving to the right side [of the sidewalk] closer to Reese hoping he would not see me," said the student. She felt scared and decided to back up, but Monnett saw her.
"At that point he does see me and we make eye contact and he has this kind of glimmering smirk towards me like he was going to come at me and do something," said the student. "Then he starts coming towards me in a violent and threatening way and at that point I turn around and sprint back to Holmberg which is where I live."
The student ran, not looking back, as Monnett yelled, "Come back here." She made it safely back to her living unit and sprinted up the stairs. Once upstairs, she made her first call to Public Safety at about 10:23 p.m., but the lines were busy.
"I make five calls to Public before they pick up within the span of ten minutes, I would say, and when they finally pick up they say something routine, such as 'We're sending Greencastle Police Department and Public Safety officers to Rector Village, so stay inside,'" said the student.
Nally said the unnamed student called and reported what happened to her at 10:25 p.m., which was at the same time the officer on duty had made his way back to Reese. The officer parked his car at 10:25 p.m., walked around the front of the building, went up the steps to the balcony and arrested the man at 10:27 p.m..
Some students were disappointed that Public Safety did not send out an Emergency Alert the day it happened or even an Information Alert earlier the next day. "I think there was issues of communication on a lot of sides and I think there was failure to send out Emergency Alert Message," Gering said, "and there is an issue with Public Safety being understaffed, but I think there is also an issue of students not knowing all of our resources."
While Gering was disappointed with the lack of communication from Public Safety during the incident, she does not believe they failed on all counts. "I will also commend Public Safety, it is true that once they found out he was talking about killing people he was arrested within minutes," Gering said.
Students were also worried with how long it took for them to get through to Public Safety. Nally said Public Safety has four lines and only one person for those four lines because in case of an immediate emergency students are encouraged to call 911. "It's not wrong to call Public Safety, but we are connected via radio to the 911 center so we certainly want to utilize that as a way students can report information because that can be really important and available information for the officer," Nally said.
Nally said that from this incident, they have discovered that students are more likely to call Public Safety because no students called 911 and encourages students to also use the Campus Eye app, a resource most students don't know about.
The unnamed student said that if Public Safety would have released an Emergency Alert earlier, she would have never had left her living unit and therefore had no interaction with Monnett. "They do things like issue alerts out for weather, silly things like that, but when someone is threatening they are going to kill people on campus," said the student, "and they don't even issue out an alert of the area he was in is a huge problem."
Nally agrees that while the arrest was made quickly after the report about the threatening comment was made, the communication could have been better. "The failure on our part, and I will take the blame for it, is not necessarily having a pulse on the student concern, so we didn't have the heightened interest of the campus necessarily revealed to us until the next day," Nally said. "If I could go back in time I would send an Information Alert that night because now I understand the impact, I don't think that we had a full picture of the impact in the moment."
The Emergency Alert was not sent out because he was arrested within three minutes of the first report of a threatening comment. "An Emergency Alert is much different and I think that we want to make sure students have a realistic understanding of how Emergency Alerts work," Nally said.
To send out an Emergency Alert, Public Safety has to substantiate the information somehow, such as multiple calls about the same thing or an officer reporting an event. Then they have to initiate the alert software and once they hit send everyone on campus is going to get texts within seconds.
"The piece of time between the officer substantiating, the dispatcher substantiating, and sending the alert, that's what can take a few minutes," said Nally, "and we want that to be as fast as possible, but I also cannot promise you that if something bad happens, the bad thing happens and your phone goes off."
Nally hopes to make sure students have a clear understanding of what they can expect from Public Safety and said, "The thought of any student not having the confidence in our ability because of our communication is disarming to me."