The war in Eastern Congo, stretching over a decade, has ravaged whole towns and turned tens of thousands of its people into refugees. Each month, 45,000 people die in the African country from hunger and the chronic violence, according to the Center for American Progress, a Washington-based think tank.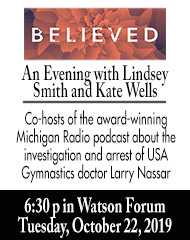 At stake are the riches lying in the soil — tin, tungsten, tantalum and gold — coveted minerals used across the globe, to power computers and cellphones.
For Henry Dambanemuya, a sophomore double major in conflict studies and computer science, the war brings real-world meaning to his school work.
Wanting to alert DePauw to the atrocities, Dambanemuya turned to student government and drafted a resolution that the university buy only "conflict-free" electronics. This means that the university would not purchase products that rely on the minerals harvested in these areas devastated by war.
The resolution passed the Student Assembly and is awaiting a decision from the Committee on Administration. Dambanemuya seeks to alert people to the problem, specifically through his discussion tonight in the Pulliam Center for Contemporary Media's Watson Forum.
"It is not our intention to make anyone feel guilty about this problem but rather to educate each other about the steps we can take to end the trade in conflict minerals and raise hope for Congo," Dambanemuya said.
Dambanemuya said he wants to explain the events unfolding in the Congo and the impact consumers have on the ongoing battles.
"We are the ones who are creating that demand that is fueling that war," Dambanemuya said.
Missy! Orr, assistant director of the sustainability initiative, said she hopes students realize that our actions as consumers can reduce the problem. She explained that the discussion will take place today at 4:15 p.m. as part of Earth Week programming.
"Earth Week is on the theme of environmental justice, so it seemed like a very natural connection to this topic," Orr said.
In discussing conflict minerals, Dambanemuya hopes to follow the lead of other universities he says have already taken a stand against electronic companies that use conflict minerals in their products.
"Those universities have already done a great job of putting pressure on these electronic companies so that they stop this trade," Dambanemuya said.
Dambanemuya hopes that by raising awareness on conflict minerals people will not unintentionally support the deaths of thousands.
"A lot of times people will say, 'We did nothing about this because we didn't know about this,' so we're hoping to tell them about conflict minerals so they can't say that," Dambanemuya said.