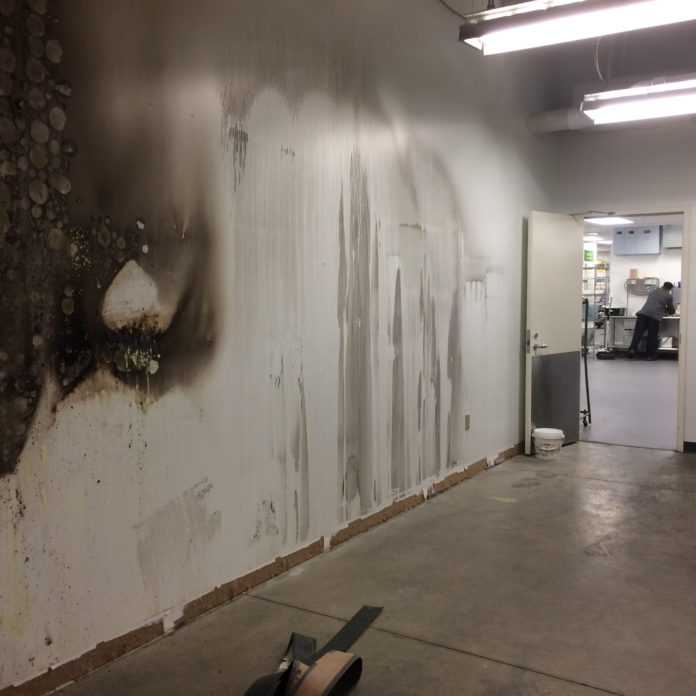 Alcohol wasn't the only thing flowing out of taps this Little 5 weekend.  University officials say water from a pair of Hoover Hall sprinklers successfully extinguished a fire early Saturday morning.
    At approximately 5:45 a.m. Saturday morning, DePauw Public Safety received an alert from Hoover's fire system of an alarm.  Shortly after, crews from the Greencastle Fire Department arrived along with Public Safety officers.  Crews finished extinguishing the small fire while beginning to clean up the damage.
    "I think it burned maybe for ten minutes.  By the time the fire department got there it was essentially out," Owen said.  Both Owen and Dean of Campus Life, Dorian Shager said the fire department did not drag hoses into the building, and only needed extinguishers to finish putting out hotspots.
    With the cause still under investigation, employees have begun to work around damage in the lower level storage room that cost DePauw an initial $4,270.50 in lost products. That estimate does not include drywall and lighting that will need to be replaced in the coming weeks.
    Fire Chief, John Burgess estimated the building's total damage at around $45,000, according to The Banner Graphic.
    "Basically the damage was caused by the water," Owen said.  "But the water is what kept [the fire] from being something more serious."
    No people were in the building when the fire was detected, and after reviewing video footage, fire inspectors along with Public Safety ruled out "anything suspicious" as a potential cause.
    "Of all the possible scenarios, this is about the best it could be," Ken Owen, DePauw's executive director of media relations said.
    The small fire was away from student accessible areas and served as an opportunity for DePauw's Critical Incident Management Team to use the skills it practices throughout the year.
    "We're ready for fires, active shooters, tornadoes that take out buildings or anything," Shager said. The team he leads has worked through a number of scenarios to ensure they're ready for action if tragedy strikes.
    "We had facilities staff there, Bon Appetite staff, public safety, as well as the local agencies including Greencastle Fire Department," Shager said.
    One of team's first actions Saturday was figuring out how to ensure students had access to meals.  With the space formerly known as the Den closed, DePauw turned to the Union Building's new C-Store.
    Students planning on eating breakfast at Hoover were greeted by Student Life staff that informed them a limited spread of breakfast would be available at the Hub's C-Store and living room instead.
    "I saw the fire truck on my way to go workout," said Sophomore, Andrew Fallon.
    According to Shager, a selection of pastries, juices, and coffee were available for the small number of students who planned on eating breakfast at Hoover.  After his workout, Fallon said he and a friend decided to take advantage of the free continental breakfast.
    "All they had were three small plates of scones. I don't know what they had before I got there. It closed at 11:00 and I got there at 11:30," Fallon said.
    Luckily, more contingency plans were not necessary. "Within a [short] matter of [time] we basically turned it from we don't know what today is going to look like to doing a limited lunch and full dinner," Owen said.
    Although it wasn't ideal, those involved admitted the situation could have been much worse.
    Both Shager and Owen recalled the fire that ravaged Rector Village in 2002.  Without sprinklers, the fire sent 12 departments and caused an estimated $1 million in damage. Hoover Hall--which opened earlier this year--escaped relatively unscathed.
    "We spend a lot of time in emergency management drills and what ifs," Owen said.  "Obviously we'd be much happier if we didn't have damage and we didn't have all of the disruption, but this actually showed that our systems work well and thank God the sprinkler system came through."
    Ken Owen who posted a picture on Facebook of the two sprinkler heads following the incident put things in perspective.  "There are so many possible scenarios you can play out," Owen said, "and while this isn't a positive one, it's the least negative almost of them all."