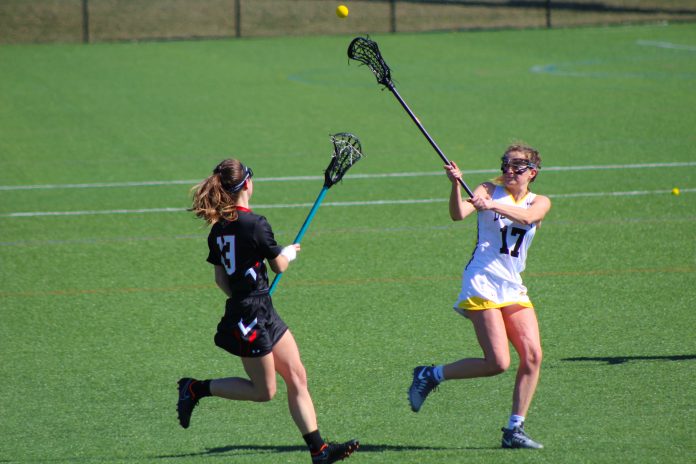 Softball
2018 record: 23-22 (13-3 in NCAC)
2018 NCAC Standing: First
Head Coach: Erica Hanrahan
Key Losses: Liz Getz, Lauren Godden, Emma Baldwin
Players to Watch: Jordyn Fera, Sidney Holler, Becca St. Germain
Key Addition: Kate Geary
Summary: The DePauw softball team looks to repeat as North Coast Athletic Conference champions, but they are going to have to do it without first team all-NCAC players Emma Baldwin and Liz Getz and second team all-NCAC player Lauren Godden, who all graduated last May. Baldwin pitched over 100 innings last year, so the team will be looking for replacement on the rubber. The team returns first team all-NCAC player Jordyn Fera, who will be supported by Sidney Holler and Becca St. Germain, who also earned all-NCAC honors in 2018. The team faces a gauntlet of a non-conference schedule, similar to last year's team who was 4-14 heading into NCAC play. Erica Hanrahan's squad is the preseason favorites to win the NCAC, but the team will be looking to improve on their non-conference slate.
Men's Track & Field
2018 NCAC Standing: Third
Head Coach: Kori Stoffregen
Key Losses: Polo Burguete
Players to Watch: Paul Christian, Zach Batt, Johnny Miller, Luke Patty
Key Addition: Callaway Bird
Summary: The men's track and field team will be looking to improve upon their fifth place finish in the 2019 NCAC Indoor Track and Field Championships. Despite losing conference champion Polo Burguete after graduation, the team is strong on the distance side of the game, as Zach Batt and Paul Christian return as two of the top distance runners in the conference. Junior Luke Patty looks to spearhead a young sprinters squad, along with senior Johnny Miller. First-year Callaway Bird excels at the 800-meter event, where he finished first in the indoor championships.
Women's Lacrosse
2018 record: 2-14 (1-7 in NCAC)
2018 NCAC Standing: Eighth
Head Coach: Jillian Howley
Key Losses: Marisa Ellison, Sarah Ramsey
Players to Watch: Kate Flynn, Sophie Hensley
Key Addition: Emma Kennedy
Summary: Head Coach Jillian Howley enters her first season as head coach after previous coach Tucker Glass announced his departure from the program on January 24 to become the head coach at Bard College. Howley returns the majority of the 2018 team, which finished second to last in the conference, minus Sarah Ramsey, the team's leading scorer who retired from the sport. The team will be led by junior Kate Flynn and sophomore Sophie Hensley, who were second and third on the team in scoring. First-year Emma Kennedy will also make an impact offensively.
Men's Tennis
2018 Record: 6-17 (2-2 in NCAC)
2018 NCAC Standing: T-Fourth
Head Coach: Scott Riggle
Key Losses: Sean Carroll
Players to Watch: Greg Frauenheim, Bryce McClanahan, Alex Bertolini
Key Additions: Wyatt Metzger, Billy Louiselle
Summary: The men's tennis team returns their three top contributors from the 2018 season in senior Greg Frauenheim, sophomore Bryce McClanahan and senior Alex Bertolini. Those three will be joined by newcomers Wyatt Metzger and Billy Louiselle, who anchor the second group of doubles. The team is already two wins shy of tying last year's season total wins, and the veteran group has a strong chance to break out of the middle of the NCAC pack and contend for a conference championship. After tough losses to some of the nation's best teams in University of Chicago and Washington University, the team is on a four game win streak, including their most recent win over College of Wooster, giving them a 1-0 start in NCAC play.