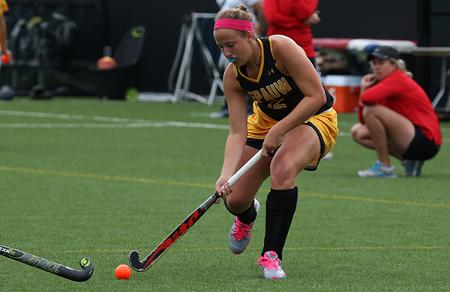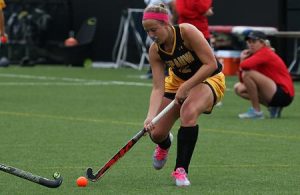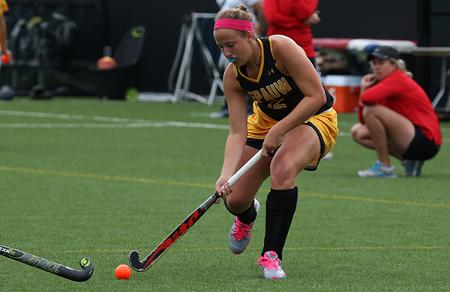 Heading into a pair of road matches against conference rivals this weekend, a simple lineup tweak was all DePauw University's field hockey team needed to continue their run of good form.
In practice on Thursday, two days before the Tigers traveled to face The College of Wooster, DePauw Head coach Erika Dombkowski moved first-year defender Erika Bell to the lineup on offensive corners.
Bell took full advantage of the opportunity, scoring three times in the first half against the Fighting Scots en route to a 6-5 come-from-behind victory Saturday and then once more in a 7-2 win on the road against Oberlin College on Sunday.
"It was awesome to be able to show my potential during the corners in the game, but, of course, without a clean insert and shot I wouldn't have even had those opportunities to score," Bell said.
Things started well enough for the Tigers against the Fighting Scots. Junior forward Paige Berliner and Bell had given DePauw a 2-1 lead before Wooster ripped off three goals in the span of a minute and a half.
Bell answered back quickly with her second and third goals of the match to tie things at four before the Fighting Scots scored late in the half. Going into the break Wooster led DePauw 5-4.
Twelve minutes after play resumed in the second half, senior midfielder Addie Ball tied the match and first-year midfielder Gretchen Bechthold scored the winner for the Tigers with less than four minutes to play.
Sophomore goalie Sarah Foye picked up the win in goal, making three saves in relief of junior goalie Sarah Guendert who gave up the first four goals of the match.
After the win, the Tigers made the hour long drive north to Oberlin College where they faced their second North Coast Athletic Conference match in as many days.
Once again the Tigers got off to a good start, with four different goal scorers putting DePauw up by four at the 22nd minute mark.