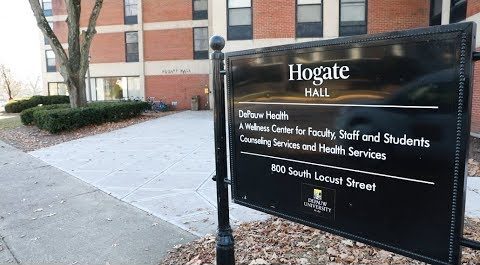 Beginning Oct. 2, a free flu shot clinic will be offered through the DePauw Health Wellness Center. According to the DePauw Health website, the clinic aims to "encourage [students] to protect [themselves] from influenza (flu) virus" by offering the vaccines.
Some DePauw students won't be choosing to get vaccinated this year. First-year Mackenzie Campbell gets her vaccines, but doesn't believe it's necessary for her to get the flu vaccine because she hasn't caught the flu. 
"I never [get my flu shot], and I've never had an issue with it," Campbell said.
Junior Elisabeth Reese said that her mom didn't make her get her flu shot for most of her childhood because she "saw some article about someone getting paralyzed" due to a vaccine. 
However, when "that huge flu went around that was…killing people off, it worried us," so her family decided to start getting their flu shots again.
The swine flu pandemic Reese mentioned killed over 12,000 people in the U.S. from April 2009 to April 2010, according to the Center for Disease Control (CDC).
Aside from the fear of serious infection, first-year Jacob Bailey said he would be attending the clinic because by getting vaccinated, "you not only protect yourself, but you're [also] protecting the people around you."
The effect Bailey referred to is called herd immunity. As vaccine.gov explains, "When enough people are vaccinated against a certain disease, the germs can't travel as easily from person to person — and the entire community is less likely to get the disease."
However, herd immunity only works when the majority of the population is vaccinated. According to the Oxford Vaccine Group, in the case of measles, 19 out of every 20 people need to be vaccinated in order for herd immunity to function.
Herd immunity comes in handy for people who can't get vaccinated. Those with weak immune systems are at the highest risk for complications if they get the flu, according to the DePauw Health website.
There are healthy measures DePauw Health recommends along with getting vaccinated, such as washing your hands and avoiding people with the flu. If you do get the flu, stay home until you don't have a fever for an entire day.
Ultimately, the most effective way to prevent the flu is to get a flu shot, the DePauw Health Wellness Center says. The free flu shot clinic will take place in the Lilly Fitness Center, Room 2012 throughout this week and the next: 
Oct. 2, 1:00-4:00 p.m.

Oct. 3, 9:00 a.m.-4:00 p.m.

Oct. 7, 1:00-4:00 p.m.