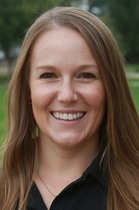 The DePauw women's swimming and diving coach, Shea Davisson, broke Denison University's three-year streak of having the conference Coach of the Year as she was named Women's Swimming Coach of the Year by the North Coast Athletic Conference (NCAC).
Davisson, upon completing her third season as head coach, said she never expected to receive such an honorable achievement. Larger programs like Denison and Kenyon College are typically recognized, but Davisson led DePauw women's swimming to an honorable third-place finish at last month's NCAC Championships, which led to her honor. The Tigers earned 1,194.5 points, a total that has not been matched since the 2011-2012 swimming season.
Senior Marihelen Gallagher credits her growth as a swimmer and individual to Davisson's efforts.
"She encouraged me to speak up for and give my input on my own swimming and things I thought were going well and things that weren't," she said. "Once I found my voice and was able to give feedback, my swimming improved immensely."
Gallagher is one of three members of the women's swim team who will be graduating in May. In contrast to Davisson's response, Gallagher was not surprised in the slightest when the award was announced. The team has improved each year since coach Davisson's arrival and their strong cohesion was the driving force of the season.
Davisson said her motivation to become a better coach comes from her dedication and caring nature.
"I really rely on their feedback about what I can do to help them even more," she said. "I'm here to make sure they're having a well-rounded, balanced college experience. I just want to make sure they feel like they're getting what they need."
Reflecting back on the year, Davisson recalled many memorable moments across the season, but she said one stuck out slightly more than the others. The Wabash College Invitational serves as the mid-season meet, and the team was aiming to place at least third among the competition. Before the last session, the Tigers were in fourth place by a small margin. Davisson remembers the team organically rallying together and maintaining high energy in order to beat Albion College and ultimately place third. Accomplishments at mid-season and conference were a result of hard work, teamwork and leadership.
Although the team loses Gallagher and senior Mary Woods, they return NCAC Championships point scorers Molly Ruggles, Ali Tallen, Mari Karmel, Nuna Bamatraf, Sammie Waples, Allison Lund and Ash Dapore. Davisson believes the team is young, talented, and able to be successful next year as well.