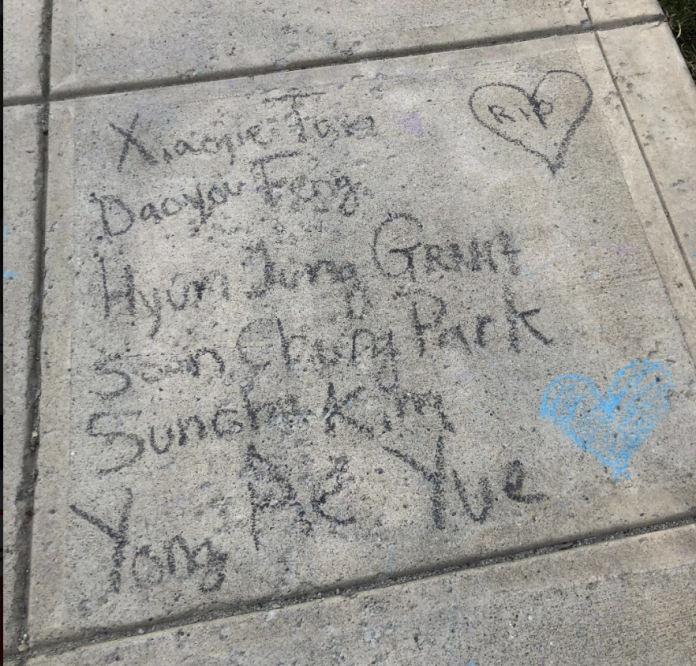 On March 16, a hate crime toward the Asian American community, which took the lives of six women of Asian descent, took place at a massage parlor and two spas in Atlanta. I was shocked and almost cried when I first read the incident through an Instagram post. The post by @browngirlcurator claims that the headline, "8 People Killed in Atlanta Area Massage Parlor Shootings" should be fixed to "White Men Murder Asian Women in Domestic Terrorist Hate Crime." I, as someone who identifies as an Asian, a junior international student from Taiwan, started to think about my own future in this country, the United States.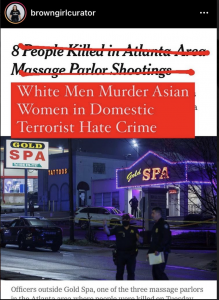 "Please be safe" is the phrase that everyone told me when I told them I am coming back to campus—a year after campus shut down—because the rate of hate crime has increased sharply after the pandemic hit. I told them they were overreacting and I will be safe. But now, I doubt it. 
Will I be safe enough to live alone in a big city after graduation? This question messes up all the future plans I have had since my freshman year. I planned to work in the U.S. after graduating from DePauw, but now I am not sure. Seeing those hate crimes influenced my trust and my dream in this country. I think I can relate to the AAPI community but I don't have the right to talk for them. I am not Asian American, and I don't think I can 100% understand their anxiety, since I still have a home, a country to go back to. 
Senior Emma Rees identifies herself as a Chinese American. She and her sister are adopted by their white parents from China. Asian Americans have been considered as "foreigners" since the very beginning of history. Unlike Rees' family, many ancestors of Asian Americans immigrated to this country generations ago, but they are still being mistreated today, solely because of their appearance. Rees notices that there is an increase in racism between pre COVID-19 and now, but she has no personal experience. But even before COVID-19 it was a concern.
"My mom always told me to have a white friend around," Rees said."It [The shooting in Atlanta] didn't shock me as much as I thought. Because of the increase in hate crime and shootings have always been pretty common."
She was obviously upset and shocked, but not as much as she could have been. Rees did not reach out to anyone for help or support simply because she didn't want to publicly talk about her feelings. I had the same mindset when the incident happened. I wasn't prepared to talk about my thoughts and my feelings that night. I can remember myself trying to climb out from the big emotional spiral. 
Several racist incidents happened on DePauw's campus in 2018 when Rees was a first-year student. Rees thinks that she should have thought more about her own safety on campus. "A community has had issues in the past," she said. Although DePauw's campus is relatively safe compared to other places in the United States, Rees says she still gets nervous when she walks alone at night. "But that could be attributed to my gender or my race. I am not sure," Rees said. 
Rees attended the racial healing trauma workshop and claims it was helpful. 
"I think [the support system DePauw has for Asian American and Pacific Islander students] could be better, but I think everything, anything could be better," Rees said. Two of Rees' friends, white women from DePauw, reached out to her and offered support after the incident took place. "I felt very supported and touched by them. I'm grateful for their actions," Rees said. 
Asian American students and Asian students need more help. The racism and hate crimes are true. It doesn't mean those incidents aren't harmful to us only because we didn't speak up. We need non-Asian members of our community to at least acknowledge it and I will be grateful if people stand up for us.