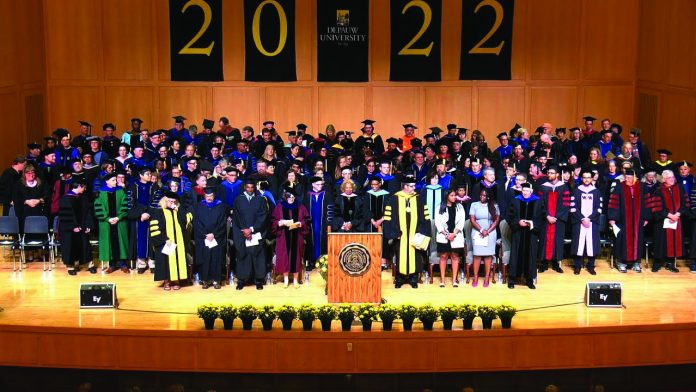 The senior class has been adaptable throughout the past two years due to COVID-19. They have all had to attend class online, miss large traditional school-wide events, and maintain the valuable connections that DePauw offers even without face-to-face interaction.
Hear from several seniors as they reflect on the abrupt changes to their collegiate lifestyle due to the onset of the pandemic.
"I missed out on a lot of important events for my sorority, my majors, and I was unable to get all the experience that I wanted before joining the workforce," Betsy Anderson, senior, said.
Although she is graduating this month, she does not feel as though her college career is complete.
"I had so many plans that were canceled in 2020 alone that would have made my experience (at DePauw) ten times better," Anderson said.
Tara Schwarz, senior, said that "COVID-19 has had an immense effect on my time at DePauw. I missed out on almost a year of school as a result. Not to mention, classes were on Zoom, which negatively impacted my learning experience."
She said that she did an internship during the fall of 2020 that was all online, which lacked a vital part of the experience given the inability to go into the office.
"Although a chunk of my college career was lost due to COVID-19, I still feel fulfilled with my college career. I think the pandemic taught me a lot of lessons like the ability to adapt," Schwarz said.
Schwarz said that she also missed out on some big campus events because of COVID-19, such as Little Five, formals, and Monon.
Brittany Molenaar, senior, said "when I came back to Depauw after Covid-19 I didn't know anyone. When I left campus my sophomore year I could name almost everyone on campus. Coming back, I knew nobody except for my own class."
She said that the pandemic made her grow up faster because she had less time to enjoy DePauw, because she had to complete her seminar alongside finding a job and setting up a life after college.
"My time at DePauw does not feel complete, but I still want to leave because I want nothing to do with the changes that the school is making, like the Business School," Molenaar said.
Andrew Walther, senior, said "Going to school during the pandemic was tough and I really had to learn to be where my feet are."
He said that even with the pandemic, he was still able to study abroad, make great friends, and learn a lot.
"Obviously, things weren't the same, but I also had an experience that no other generation had, and I think there's a lot of resilience in that," Walther said.