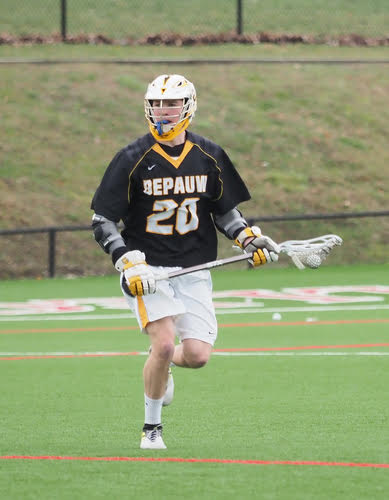 Senior lacrosse player Steen Jorgenson was reminiscing on his lacrosse career at DePauw last week with the end in sight, so he logged on to the DePauw Athletics archives to check out his stats.
This was when he realized he was tied for the all-time DePauw lacrosse career goals scored record with two games to play at 92 goals. All he needed was one more goal to hold the record outright.
"I didn't want to tell anyone before the game because I didn't want people to be focused on me breaking the record," Jorgenson said.
The very next night, Jorgenson broke through a group of Wabash College defenders, unleashing a shot through the outstretched arms of the Wabash goalie, and cementing his name in the DePauw lacrosse record book.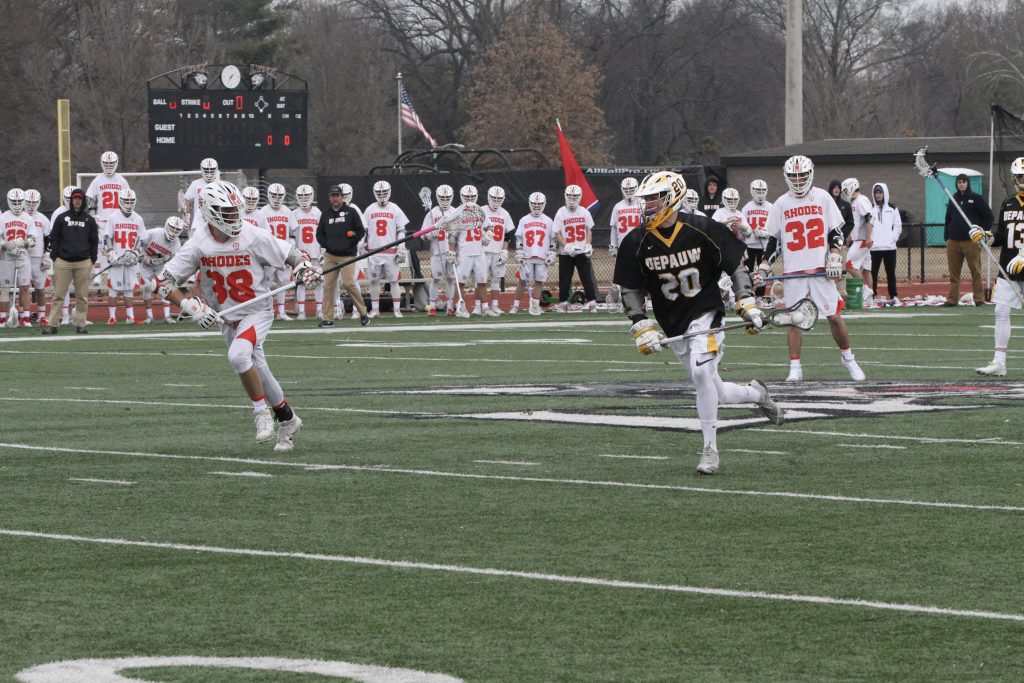 Jorgenson grew up on the north side of Chicago in a family of hockey players. His father still plays hockey to this day, and both of his older brothers played hockey through high school as their main sport. Jorgenson began his athletic career as a hockey goalie, but it wasn't his love.
"I needed to get out of the net," he said. "I wanted to score goals."
He received a lacrosse stick as a gift in fourth grade. What started out as more or less a toy to play with friends turned into a game he loved. He joined an organized team two years later and quit hockey a year after that to focus on lacrosse.
Jorgenson credits the area he grew up in to contributing to his love for lacrosse. Lacrosse took off decades ago as mainly an east coast sport, but has started to gain traction in the Midwest, specifically the north side of Chicago. Jorgenson went to New Trier High School, which has one of the best lacrosse programs in the state.
"I kind of began thinking about playing lacrosse in college because of who I was playing with," he said. "I wanted to make varsity at New Trier, and once I did and started playing well with some really good players, I thought I could take it to the next level."
Jorgenson immediately established himself as a contributor at DePauw, starting 13 of 14 games as a first-year and scoring 17 goals. As a sophomore, he went from just a contributor to a leader and one of the best players on the team. He scored 80 goals and had 28 assists total the next three years.
His decision-making improved over the years as well, recording his highest shot-on goal percentage and lowest turnover rate of his career his senior year.
His career may have peaked his junior year in an April contest against College of Wooster. Wooster has one of the best lacrosse programs in the North Coast Athletic Conference (NCAC), with a history that far exceeds DePauw's program. Wooster was a heavy favorite to beat DePauw, but that didn't stop Jorgenson and the Tigers. DePauw dominated from start to finish, on the way to possibly the biggest upset in program history, as they won 13-8.
Jorgenson was coming off a season-high four goals against rival Wabash, but he wasn't thinking in the past. He was the heartbeat for the offensive attack, leading the team with three goals.
"I think if you ask most players their favorite moment of their career, they will tell you the Wooster game," Jorgenson said. "It was just total domination from start to finish."
Jorgenson wasn't just an offensive mismatch against most teams; he was also a great leader and mentor to younger players. He was a captain this year and never made things about himself. He won't even take ownership for the career goals record, calling it a team record.
"I never would have gotten that record if I didn't have such great teammates around me at every position," Jorgenson said. "They have been awesome."
His teammate, junior Jeremy Konzen, said that Jorgenson has been a leader since his sophomore year.
"He's not only a great teammate and leader because of the amount of skill, but he is a leader by example," Konzen said. "He does all the little things right."
The previous record was held by Ben Sherman, a 2018 graduate whom Jorgenson played with for three seasons. After the Wabash game, Jorgenson texted Sherman telling him that he broke his record. Sherman wasn't upset, in fact, he was happy, which is a reflection on Jorgenson's character.
"I wouldn't want anyone else to break my record," Sherman told him.
Next year, a new lacrosse player will need to take over the scoring load Jorgenson has held the past three years. When the team is in need for a goal, a new player will have to create a shot for himself. When the team needs a leader to bring them together, a new player will have to step up.
"My DePauw lacrosse experience was amazing," Jorgenson said. "I wouldn't change it for the world."