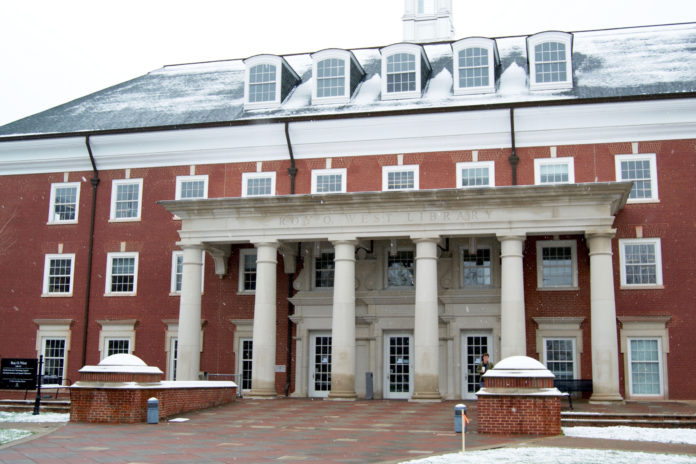 After a closure that lasted over two academic years, Roy O. West Library has opened its doors once again. A few features of the new and improved Roy include the Tenzer Maker lab, a number of study rooms, a meditation room, the DePauw archives, and a cozy yet spacious reading room, complete with a double sided fireplace. The beloved Cafe Roy has also made its return on the lowest level of the library with plans to reopen later this semester. Roy is also now home to the Learning Commons, formerly known as the Academic Resource Center where students can receive peer tutoring to improve their writing, quantitative reasoning, and speaking and listening skills.
With all of its new additions, the opening day of Roy was highly anticipated.
"I went at 8 a.m. on Monday when it opened," senior Brentton Campbell said. "I was very speechless even though I'd seen the renderings. I'd been following the progress of the library on DePauw's website so I kind of knew what to expect but it felt very surreal."
Right off the bat, Campbell noticed several exciting changes. "There's a lot more technology which is really cool, and it's obviously bigger too."
Naturally, the experience of being in the new and improved Roy brought about some fond memories of Campbell's previous times there, "Roy was my favorite place when I was a first-year."
Campbell's sentiment seems to be a shared one. For many seniors, the long-awaited reopening of Roy feels like a homecoming.
"I started working there my freshman year back in 2019 when it was still old Roy," senior Angelica Glogowski said.
Glogowski has worked as a student service assistant in the library for the past several years with Roy's renovation temporarily moving her across campus to the science library in Julian.
"I worked at Prevo these last two years and that was a lot different," Glogowski noted.
Like Campbell, Roy's reopening brought upon a wave of nostalgia for Glogowski. "I think back to freshman year, and I had a really fun time working there."
As students explore their new library, they're taking note of their favorite spots. Glogowski's preferred spot is the tranquil reading room.
"I just think it's really pretty and it's been pretty quiet in there which is surprising. I like that."
For Campbell, narrowing down a favorite spot was a little more challenging. Specifically, he noted the reading room and the Tenzer center. However, Campbell's most favorite part of DePauw's new library seems to be the perspective it gave him on what lies beyond the steps of Roy O. West. The views from the third floor provided Campbell with something he didn't know he was missing.
"You can see the sunset over the football field which is really beautiful. You can see all the way out to the nature park."
With fresh eyes from the top floor of Roy, Campbell appreciates the beauty of a place he has called home for four years.
"I love being able to look at the skyline of Greencastle. As small as it is, it's very cute," he said.
Although Roy has undergone a number of improvements, Glogowski hopes some things will return to the way they were before the renovation.
"I know some people were complaining about people being loud on the third floor, like seniors," Glogowski explained.
Historically, each level of Roy is progressively quieter, culminating in the top floor which was to be virtually silent.
"I told some of my friends they should just start writing on the whiteboard and telling people like 'third floor quiet'," said Glogowski.
Campbell also noticed this change and said, "The third floor was always dead silent and now there's people talking and chatting on the third floor."
However, Campbell understands why this shift has occurred. "The only people that know that [the third floor is supposed to be silent] are current seniors who were here their first year," he explained.
All in all, DePauw students are glad to have their library back, though some upperclassmen do feel shorted by their abbreviated experience with Roy.
"It was a very long wait," Campbell said, "though I'm very grateful that I get to have it for at least a semester."