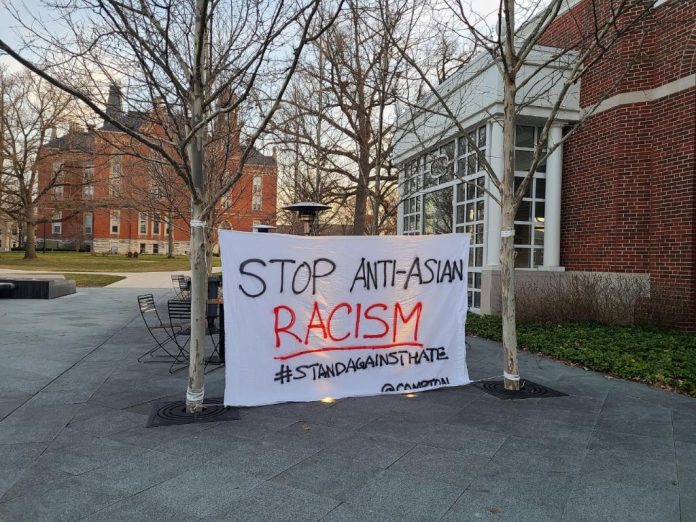 Eight individuals, six of whom were identified as Asian women, were shot and killed at a massage parlor and spas in Atlanta on March 16.
According to BBC News, the victims were Delaina Ashley Yaun, 33; Xiaojie Tan, 49; Daoyou Feng, 44; Paul Andre Michels, 54; Elcias R Hernandez-Ortiz, 30; Hyun Jung Grant, 51; Soon Chung Park, 74; Suncha Kim, 69 and Yong Ae Yue, 63.
The initial shooting, which was at first classified as a "robbery in progress," according to The New York Times, occurred at a massage parlor. The shooting was reported at 5 p.m., with four people dead. The next shooting was reported at 5:47 p.m. at two spas in the northeast part of Atlanta, with another four people dead.
Currently, Robert Aaron Long, a 21-year-old white man is suspected and in custody.
Much of the public reacted to this stating that it was a racially-motivated hate crime against the Asian, Asian American and Pacific Islander (AAPI) community. This pandemic has seen an increase in the amount of hate crimes against Asians by 150%. For instance, on Monday, March 29, a 65-year-old Filipino woman was assaulted in New York while walking to church, with the NYPD Task Force still investigating and looking for the suspect.
Due to these instances and more, people have been highlighting the organization Stop AAPI Hate to raise awareness and condemn these xenophobic crimes.
DePauw's response included an online session for Asian, Asian American, and Pacific Islander communities which was hosted by Dr. Amanda Kim, DePauw's first vice president for Diversity and Inclusion, on March 18, 2021. The goal of the session was to allow students and faculty to share their honest feelings in response to the Atlanta shooting which is regarded as a hate crime against Asians.
Kim and Vice President of Student Academic Life Alan Hill sent an email to students and faculty with two online session options: one for members of the AAPI community, and one for allies, acknowledging the rapidly increased number of violence, racism and xenophobia targeting members of the Asian community, especially due to COVID-19.
Two students, Akane Inoue, a junior international student ambassador, and Vy Hoang, co-president of the International Student Association, provided their thoughts about the situation and DePauw's response.
Inoue explained how she felt a lack of support from DePauw faculty since most of her professors had not spoken about the incident.
"I think it's impacting … people's mental health and safety, especially being in Greencastle where we know that racial incidents have happened in the past," Inoue said.
Hoang continued the conversation regarding the university's response--or, lack of response--to the situation.
"I have had a couple of friends reach out and ask [if] I am doing okay," Hoang said. "But then, from the university side, I don't think there has been much of … checking in [with] student mental health."
In addition, Hoang expressed her concern about international students, especially freshmen walking on campus at night.
"I know that a lot of people haven't been able to have their own circle of friends yet," Hoang said. "I think that we should have a somewhat more supportive system for our students."