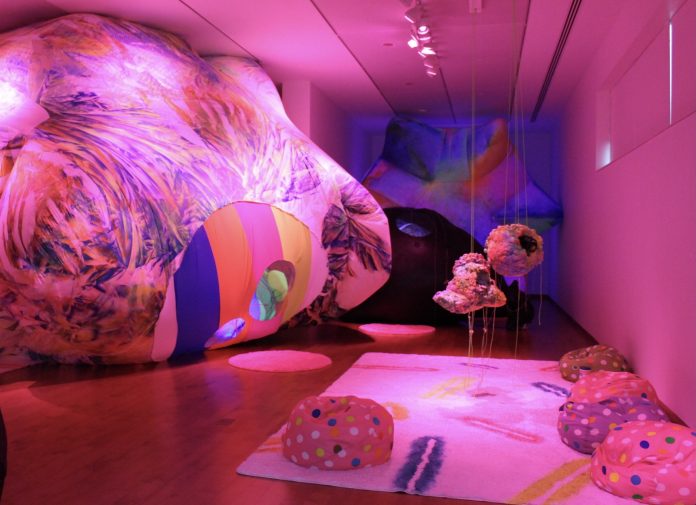 In recent weeks, the DePauw community has witnessed a series of new art galleries on campus, including visual arts experiences in several forms.
All three of DePauw's new art galleries are located in the Richard E. Peeler Art Center, each holding secrets for students to discover. "I visited all three galleries in Peeler Art Center, and each brought me completely different impressions and experiences. I see the abstract but lively vibe of Claire Ashley's work, the calmness and stillness in "Out of Isolation," and the mysterious energy of all art works in "'MisPerceptions.' I think art is so diverse," first-year Tom Nguyen said.
"Cosmoculus" - Combination of inflatable art pieces by Claire Ashley
Starting the sequence of art galleries is "Cosmoculus," created by artist Claire Ashley. The layers of visual experiences' inspiration rooted from monumental "landscape, bodyscape, and alien worlds," according to Ashley. Displayed from Aug. 23 to Oct. 10, "Cosmoculus" is an opportunity for students to discover visual arts through a series of inflated objects and mysteriously sonorous sounds combined with dim lighting. During Peeler's office hours, all DePauw students are welcome to come and observe the art, as well as learn more about Claire Ashley, who has been the expert in turning ordinary objects into painterly inflatable sculptures for many years.
"Out of Isolation" and information on the main theme
The second art gallery at Richard E. Peeler Art Center is "Out of Isolation," open to DePauw students from Aug. 30 to Dec. 10 by director and curator Maggie Leininger and Klauser Fellow Austin Canales. The art exhibition brings to mind "the sensibility of isolation, meditation, and reflection which are many terms that people have gotten accustomed to during the pandemic," according to Peeler's website. Students can freely visit "Out of Isolation" on the lower level of Peeler.
Hidden truths behind many art pieces are presented in "MisPerceptions"
"MisPerceptions," an art gallery organized by associate professor of art and art history Pauline Ota, was added to the upper level of Peeler on Sept. 13, and will be open until Dec. 10. The gallery will shed light on hidden truths behind objects, some of which were initially created for different purposes than what people see today. Additionally, art pieces by Andy Warhol, Brian Eno, Judi Werthein, and more are displayed in this art gallery for students to visit and examine. First-Year Kai Nguyen expressed his excitement in visiting the gallery, "'MisPerceptions' was the best art experience in my life, as I could both feel and learn while staying at the gallery. The meaning of many objects was so surprising, and the setting of the gallery really evoked curiosity to discover more art pieces. I'm certain that students will be so fascinated if they spend time going around the gallery," Nguyen said.
The opportunities for students to discover visual arts are endless at DePauw
Students are invited to visit the galleries on Monday through Friday from 10:00 a.m. to 4:00 p.m., Saturday from 11:00 a.m. to 5:00 p.m., and Sunday from 1:00 p.m. to 5:00 p.m. More information on upcoming art exhibitions or past events will be available on Peeler's website. There will also be Artist Talk sessions for students to attend, including "Artist Talk: Rachel Eng" on Nov. 1, and "Curator Lecture with Maggie Leininger" on Nov. 16. "Residue," a visual art gallery that contributes to the environment by Rachel Eng, will be displayed on campus from Oct. 25 to Dec. 5. Another destination on campus for students to view art is the Emison Galleries, located in the Emison Building at 204 East Seminary Street, which is also open daily for everyone to visit.