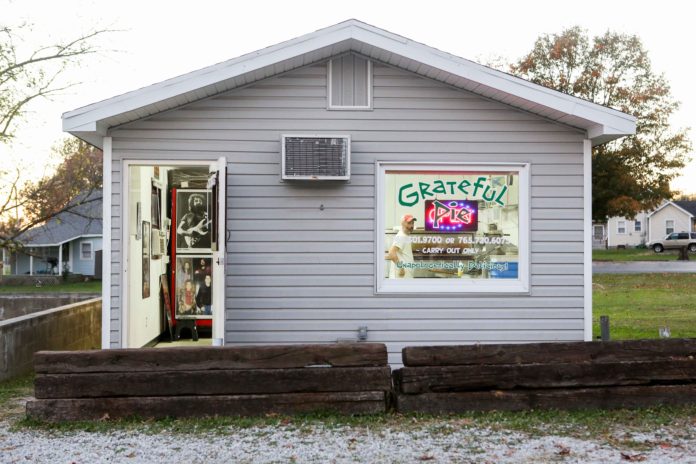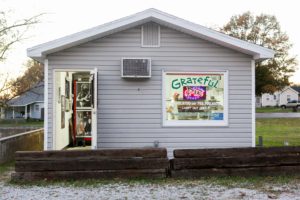 You can add another restaurant in walking distance of campus to the list. This "new" pizza spot, Grateful Pie, formally Humble Pie, reopened after closing two years ago. Although the pizza was not stellar, it is definitely a good option for weekend eating.
The owner, David Gibson, first started Humble Pie with his son, but then Gibson left Greencastle and soon after his son closed down Humble Pie. However, he recently returned to Greencastle and said, "I was driving by the building and felt nostalgic so I contacted the owner and bought the building back."  
Grateful Pie is located on Berry Street, about three blocks down from the Delta Gamma Sorority house and Hogate Hall. The menu includes pizza, calzones, and breadsticks with specialty pizza and calzone options. There are 30 toppings to choose from, including unconventional flavors like goat cheese, sun dried tomato, capers, and artichoke hearts.
All the food at Grateful Pie is made from scratch, and it takes them five to ten hours to prep for a five hour shift. Grateful Pie smokes all their meat, and Gibson said he lets the dough he makes from scratch age for about five days. "I don't like anything from a jar or can… it's all very labor intensive and the only way to do it is if you're really passionate," Gibson said.
For the first time around, I ordered the "Deluxe" specialty calzone and "Pig in the Garden" specialty pizza.
The "Deluxe" calzone was filled with pepperoni, italian sausage, portabella mushrooms, onions, and green peppers. The calzone dough was light and had a good flavor, but the outer crust was not crispy like a traditional calzone. The "Deluxe" ingredients seemed like they would have a powerful bite when combined, but the execution was a bit bland. Overall, the calzone was decent, but not especially tasty.
On the other hand, the "Pig in the Garden" was a more interesting option. This pizza came topped with bacon, red onions, portabella mushrooms, roma tomatoes, cheddar and feta cheese. The topping combination had a much fuller flavor than the "Deluxe" option, although I wished the pizza came with solely feta cheese and not add the mozzarella and cheddar cheese. The pizza dough could have been cooked a minute or two extra in the middle, but the crust was perfectly toasted.
Compared to other pizza joints in Greencastle, I would rank Grateful Pie at the top– but not by much. The ingredients are fresh and abundant, and the specialty pizza options are interesting; however, I think the execution could use some improvement. As a side note, the pizzas only come in one size, and it can serve between two ravenous people and three people looking for a decent dinner.
Grateful Pie is carry-out and accepts cash and check. Its hours are 4-9 p.m. Monday-Saturday. To order, you can call 765-301-9700. For a full menu and address, check out the Grateful Pie Facebook page.