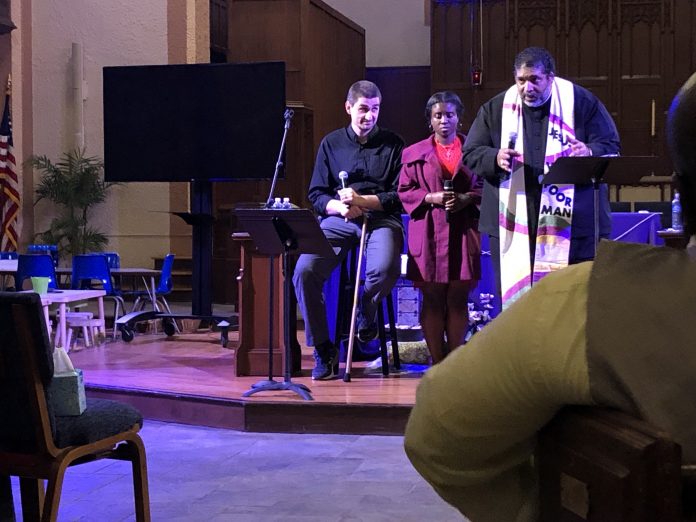 "When the heart and soul of democracy is sick and broken and hurting, nothing [would] be more tragic than for us to stop now," Rev. Dr. William J Barber II said on Tuesday night, at Gobin United Methodist Church. The annual Mendenhall Lecture, sponsored by the Center for Spiritual Life, featured the Rev. Dr. William J Barber II and Jonathan Wilson-Hartgrove as the speakers. Their presentation was titled, "The Heart and Soul of Democracy."
Wilson-Hartgrove and Rev. Barber discussed the revitalization of the Poor People's campaign, a movement started in 1968 by Rev. Dr. Martin Luther King Jr. to advocate for all poor people, regardless of race.
Wilson-Hartgrove explained fusion politics, where people of all races build power together, as a tactic to fuel the revitalization.
"It's what we've been seeing all over this country: people who aren't supposed to be together are coming together in these fusion coalition's that say, 'when all of us do better, all of us do better,'" Wilson-Hartgrove said.
Wilson-Hartgrove's background in Christianity influenced his work with the Poor People's campaign.
"I grew up in the heyday of the Moral Majority movement in the 1980s. If you want to be Christian, it meant that you had to be Republican. That's what we understood. And I was an ambitious kid who wanted to do all that I could for Jesus," Wilson-Hartgrove said.
However, Wilson-Hartgrove noticed the intersection between Christianity and politics as a teenager and was confused when others exploited the connection.
"I came to a kind of dead end as a teenager, where everything that I had been taught about–what it means to live our faith, the public life–I wasn't comfortable with anymore, but I didn't know what any alternative could be," Wilson-Hartgrove said.
Rev. Dr. Barber spoke afterward, and his part of the presentation discussed the history of America's relationship with its people.
"And the question in the midst of these times is, 'What do we, the people do?'" Rev. Dr. Barber said.
He discussed specific moments in United States history that show injustice and contradiction to the values laid out in the Declaration of Independence.
"Also in that same document [Declaration of Independence], it says whenever any form of government becomes destructive, to the ends of life liberty, the pursuit of happiness, it is the right of the people to alter that government, abolish it, or institute a new government," Rev. Dr. Barber said.
However, the bulk of his speech detailed what Rev. Dr. Barber called the "five interlocking injustices."
"There are five interlocking injustices we must address in we the people are concerned about the heart and soul of this democracy," Rev. Dr. Barber said.
The injustices are systemic racism, systemic poverty, ecological devastation, the military economy, and a distorted Christian nationalism. Of these injustices, he claimed racism was systematic, not cultural.
"So when anybody tells you that they want to deal with racism, and they think all racism is us getting together and singing, 'Kumbaya my lord, Kumbaya.' They ain't serious," Rev. Dr. Barber said.
Rev Dr. Barber said that voter suppression, resegregation, and high poverty schools constitute as racism. Another one of his points was systemic poverty, which Barber addressed across racial lines, using Indiana as an example.
He framed his stance on poverty with Coretta Scott King's idea that poverty is violence.
"She said poverty can produce a deadly kind of violence in this society. Violence against poor people and minority groups is routine. She said I remind you that starving a child is violence." Barber said.
Barber also pointed out the statistics in Indiana on poverty. According to Barber, 40% of the people are poor, 39% of all white people are poor and 64% of all people of color, also.
DePauw University chaplain, Reverend Maureen Knudsen Langdoc, invited the pair to campus because of her "thought that Jonathan [Wilson-Hartgrove] and Reverend Barber would help us have a conversation that we need to have.
Association for African American Students president and junior Kaleb Anderson also thought the speech was fascinating.
"I thought Reverend Dr. William Barber is a fascinating speaker, an activist and advocate. I think, at the core of the argument and of the movement, he speaks to a lot of interlocking issues. And it's interesting seeing the ways he's led the movement and gone about attracting the majority," Anderson said.
Overall, Rev. Dr. Barber and Wilson-Hartgrove said their faith inspired them to begin their work with the Poor People's Campaign, and they will continue that work in the future. In the words of
Rev. Dr. Barber, "We need people today that will decide that it is our moral obligation to stand up now."