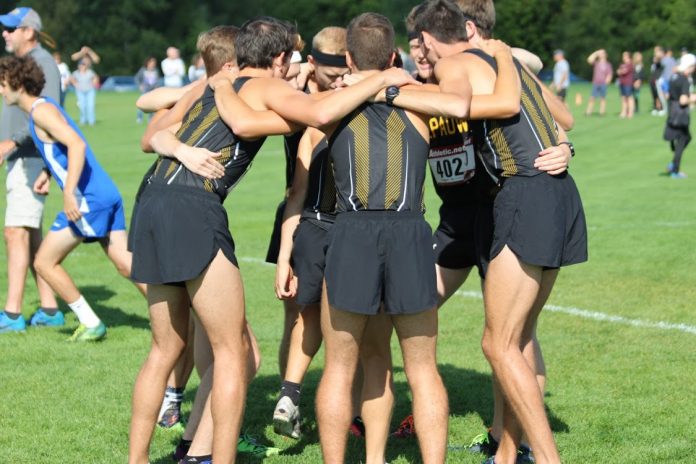 The DePauw men's cross country team finished 7th in the first out-of-state race of the year. Held at Calvin University in Grand Rapids, Michigan, the team walked away with 214 total points. Senior Cole Martin led the Tigers in  24th place by running a solid 25:47.2 and pacing 5:11 per mile. Junior Aaron Worely and Zane Williams placed 59th and 60th to round out DePauw's top three. 
The women's team finished 14th place at the same event. Sophomore Jenny Noll led the 
Tigers with a 28th place finish, running a 23:00.4 at   6:10 per minute. Seniors Riley Hickman and Natalie Gruszka finalized DePauw's top three, as Hickman placed 75th overall and Gruszka placed 97th.
Gruszka is confident in the team's strategy and feels improvement is coming. 
"The girls' team needs to keep doing exactly what we are doing. I think our first race of the season calmed first-race nerves and gave us a boost of confidence to set the tone for the rest of the season," Gruszka remarked. 
There are high expectations for this year's girls team. Gruszka continued, "Like Coach Kori said, our goal is to be running our best by November at conference and postseason meets. The girl's team wants to placed in the top three at the NCAC meet."
First-yearReagan Hogatt made her DePauw debut in the first race this past weekend. She learned some vital lessons that will pay dividends later this season.
"The first race, I started too fast. I wasn't really thinking about that extra thousand (meters) added to the race, so the next race, I'm going to try running with another teammate to help me run smarter," said Hogatt.
Hogatt, along with the rest of the team, wants to improve from one race to the next. 
"In practice, we're going to run in groups together, and as the season progresses, we should get rid of those huge gaps in between. We also want to have the 'increase as we run' attitude, and start off not super fast," said Hogatt. 
The cross country team will continue their 2019 campaign at Indiana State's John McNichols Invitational on September 21st.