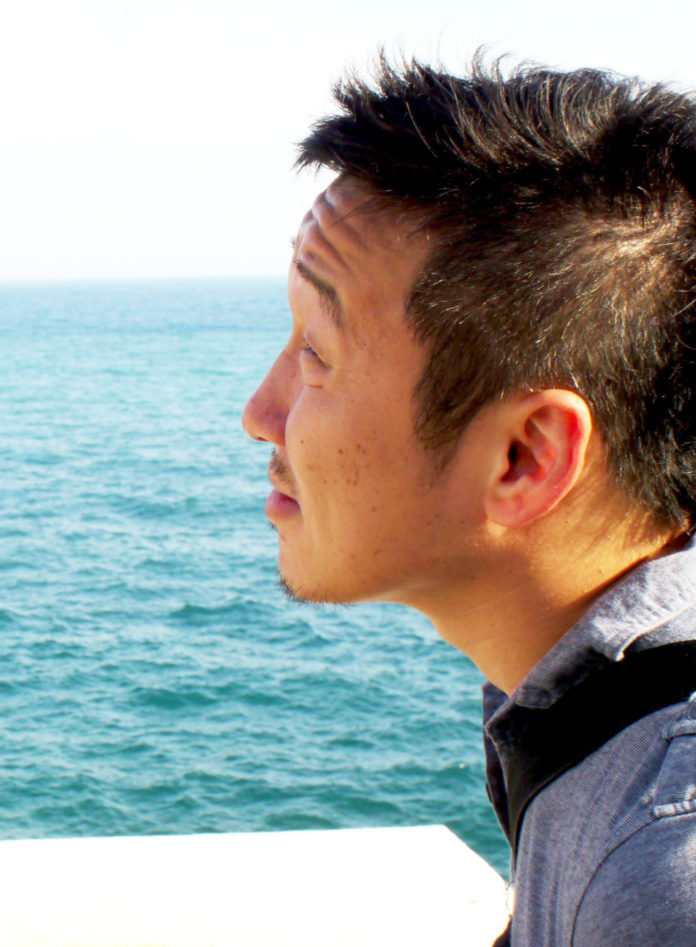 Award-winning screenwriter and filmmaker, Professor Ougie Pak, dreams of a multi-million dollar screenplay by the end of his career, but he has bought real-life production experience into DePauw classrooms in the meantime.
Pak is an independent creator whose films have screened at many independent film festivals such as Tribeca Film Festival in New York, the L.A. Film Festival in California, and the Busan International Film Festival in Korea, to name a few. He has taken a break from the professional industry and begun teaching and mentoring DePauw students in the Film Studies program.
The program first offered only a film studies minor, but now also offers a major for DePauw students. The curriculum has focused on scholarly courses thus far; however, the head director of the program, English Professor Christine White, said Film Studies is striving for a more comprehensive course offering for production.
"We have been focusing on theory, criticism, and history [of film], and over the past few years, we have been working towards trying to offer a production aspect of the program," White said. White said that many students interested in film, especially prospective students, want the production side of film represented in the program.
"In English, we teach literature courses and creative writing courses. In Art, we teach art history and studio art courses," White said. "So, those set the precedent for what we hope to do in Film Studies, which is to have the scholarly understanding of the discipline, but also have the hands-on, more creative aspect of the program to complete it."
The Film Studies program found Pak three years ago through the Consortium for Faculty Diversity Association. Professors of the program hosted him on campus to run student film workshops and to assist with senior seminar projects. He was offered a one-semester position, but was unable to take it at that time.
White said that Pak's creative background in filmmaking was just what the program needed. "We were excited about his professional profile as a filmmaker," White said. "He's done quite a lot and made some great films, so the combination of his teaching abilities and professional résumé was very exciting to us."
An aspiring writer in college, Pak was an English major during his undergraduate years. It was not until he joined Antidote Films, a production company in New York, that he found his passion for filmmaking. "I got into filmmaking late because I always wanted to be a writer," Pak said. "I didn't even know movies were made though; I thought they were like magical companies that just created them."
Pak worked as a production assistant at Antidote, where he would read scripts and work under the producers there. "I started to learn that there were these screenplays, like the blueprint for the film, and then I started dabbling in writing screenplays," Pak said.
Pak found himself making short films while he was waiting for his screenplays to be read by industry producers. "I took a class on shooting a five minute film, and that was my first short," Pak said. "I thought I wanted to be a writer, and I still think I'm a writer first...but, while I'm waiting on a screenplay to be read, I can make another ten minute short film because that is something doable."
Most of Pak's short films are dramas, like "The Boardwalk" (2016), stemming from stories about him and his family's experiences. "I've mostly gone to stories about my own life and people that I know, like a father-son story," Pak said. "When else is anyone going to tell an intimate story from my life if it's not me?"
To Pak, film has the ability to connect people in a way that other mediums of communication cannot."It can get us right into the character's head and into their shoes...By starting to see stories outside of your experience, you want more and you're open to more," Pak said. "Then it's a window into worlds you couldn't necessarily experience in real life."
Pak agrees with White that hands-on production experience is the best way to learn about film. "If you give them the tools, they run with it," Pak said. Sophomore David Jones, a student in Pak's upper level production class, said that Pak allows his students to have control of their filming while guiding them along the way.
"He provides us with the guidelines and directions for what his final product looks like, but for how we want to create it and our ideas, he lets us have full control over that," Jones said.
Pak's current production classes are Introduction to Digital Filmmaking and Acting, and Directing for Film, where students make their own short films. After learning techniques and producing small clips integrating those techniques, the students produce their own films during the latter half of the semester.
Although he focuses on production, Pak also teaches an Introduction to Film course. "Because I have an MFA [Masters in Fine Arts] rather than film studies, I've taken a different approach to the Introduction class," Pak said. "We learn about basic terminology and some film history...but I've made it into a pseudo-production class because I think there is no better way to learn about film."
Next semester, Pak will offer a first-year seminar focusing on film adaptation and two production courses: Intro to Digital Film Production and Writing and Producing the Short Film. Additionally, he will act as a mentor for senior capstone production projects.
Pak said he has enjoyed his experience at DePauw thus far and is excited to see the outcome of this semester's student films.
"It is really fun. It's a lot of hard work, even making a five minute film in one semester is really hard," Pak said. "But, I really don't think it matters that you're an undergraduate. Sometimes the younger you are, the better ideas you have."