Hoover

I know you think you can finish your lunch and your studying in one go, but meals (even ones in a cafeteria) should be enjoyed. Use your meals to hang out with your friends. College is busy and the homework will pile up, but you should keep your mealtime sacred. Use your time in Hoover to enjoy a meal with your new classmates without worrying about work. I made my best friends at DePauw by just enjoying lunch with them everyday.
Olin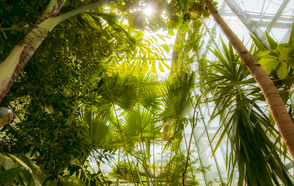 Olin is perfect for biology majors. However, walking through the front doors reminds me of the reptile house at the Michigan City Zoo, which terrified me as a child. Olin boasts a fish tank and an incredible display of fake fish that unlocks my deep-seated irrational fear of fish. But if fish or reptiles delight you, Olin may be the perfect study spot for you –– it's just not for me.
Your Room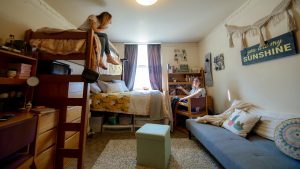 Being curled under a blanket in a cozy room is my choice of a study space, but it is not necessarily a great place to do your homework. Separating your leisure space from your work space allows you to maintain a healthy work-life balance that will keep you sane during finals week. However, if you, like me, need to do a little dance to expel the demons in the middle of essay writing, you may want to stick to your room.
Harrison Hall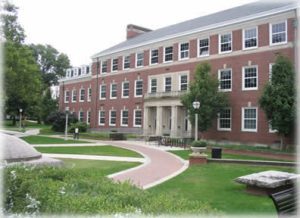 I'm not very acquainted with Harrison now, although I was when the first floor was the Classics department. But with new renovations and rumored hydraulic chairs for the new Business School (that will be housed on the first floor), I'm sure there will be plenty of fun places to study in.
Peeler
I love Peeler, but it does not have a lot of cozy study spaces. If you are a Studio Art major or an Art History major, the student lounge is a beautiful space to study in. Otherwise, I would only study here if you're waiting for a class or an event to start.
Asbury Hall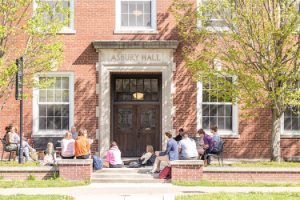 Asbury is perfect for a quiet weekend study. Any room you choose is filled with old books and paintings, providing an artsy, academic vibe to do your homework in. You will feel very studious and it's unlikely any noise will disrupt your essay writing session.
Julian
There is nothing wrong with studying in Julian. If you are a STEM major, it is a great spot to get your homework done. However, as a dirty humanities major, I usually never find myself near Julian unless I am walking past it to get to Peeler. The building itself is beautiful with high ceilings and a lot of light. However, the best study spots are the balconies on the second and third floors, which means you have to make the long, arduous climb up the steep Julian stairs—a challenging journey for my weak nerd legs.
Ubben Quad/Bowman Park/East College Lawn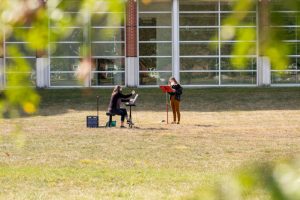 If you want to be surrounded by nature while you study, there's plenty of space to do it. There are chairs set out all around campus waiting for you to sit in and enjoy the gentle breeze as you do your readings. I love studying outside in the sun, but sometimes I want to sit at a table or have access to a charging cable. Unfortunately, I can't plug my computer into a tree.
The Green Center for the Performing Arts (GCPA)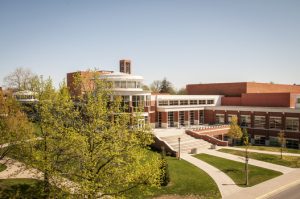 The GCPA is huge and has any study space you need. You can pick up a coffee and sip it by a window as you do some readings for class. You can practice your presentation in an empty acting classroom. You can study your music in one of the many basement practice rooms. But do not wander around the GCPA too much, or you will get lost. It is a labyrinth—if you do not know it well, you may end up lost forever.
The Union Building (UB)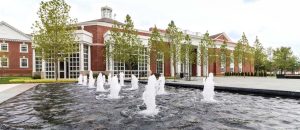 The UB is my favorite spot for studying in between classes. I can get a little snack from the C-Store, pick up any packages I have, print out any assignments my professors need paper copies of, and listen to people chatting and playing pool as I knock out some readings or send some emails. The UB is the perfect study space if you appreciate a little noise and socialization with friends passing by.
The Pulliam Center for Contemporary Media (PCCM)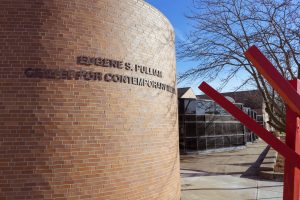 I would rank the PCCM higher, but it is not the best study space for all. The quiet home of our college radio is a great place to study if you need silence while appreciating the ambient music. The tables are also of great size for anyone who needs to sprawl out a few books while doing research. Overall, the PCCM just has a quiet, cool, college vibe that will make you feel productive and inspired.
Roy O. West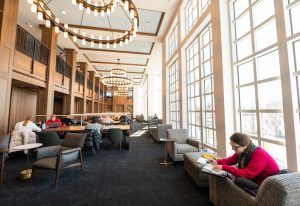 You may ask why the newly opened Roy O. West complete with Cafe Roy is not the number one study spot. It has everything: a wooden reading room with warm lighting, bookshelves and comfy chairs, treehouse desks, large tables for group study, private study rooms, and a cozy third floor. While it does have all these amazing amenities and different spaces to fit your mood, it cannot completely excel at one vibe the way the top two spaces on the list do.
Stewart Plaza
When the weather is right, there is no better place to study than Stewart Plaza. Sitting under some shade with a C-Store Pure Leaf Unsweetened Ice Tea in hand while working on some homework is joyous. I fully believe the college experience is working on an essay outside while students pass by you on the way to class. The atmosphere is incredible and the gentle ripples of the plaza fountains will calm your nerves as you work on your assignments.
East College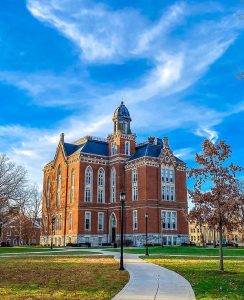 Am I biased because the English major lounge is in East College? Maybe. But the lounge is not my recommended study spot. While the English lounge and the basement of East College provide plush seating and quiet spaces to study, Meharry Hall on the second floor is the best room to study in on campus. I want the old portraits on the wall to come alive and impart their ancient wisdom onto me. I want the grand piano to play itself while I study. I want to hear ominous creaking from the second floor balcony. The dark academia fantasy that East College provides makes it the perfect study spot for your liberal arts education.
Images courtesy of DePauw website and social medias.