"I don't think my experience here at DePauw would be complete without him."
Senior Grace Whitaker began her time at DePauw alongside another new face on campus. Rey, legally known as Remus, is Whitaker's cat and emotional support animal (ESA).
Whitaker found Rey as a stray back home in Kentucky. Fearing he would not survive, she welcomed him home with a can of tuna and a raccoon trap. The two immediately formed a connection, and the rest is history.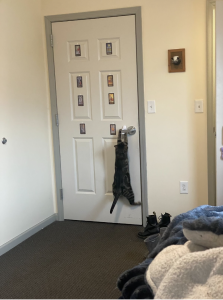 "I feared his time as a stray would make [his] adjustment [to living in a dorm] hard, but he loves being a dorm cat," Whitaker shared.
Whitaker said she most enjoyed living in the duplexes with friends and Rey. According to Whitaker, the duplex layout allowed Rey to roam freely and play many games of tag or hide-and-seek.
"I would run down the hallway and wait in silence for him to turn the corner. Then, I'd pop out, and he would get all excited and scurry around until he also found a spot to 'hide'," she explained.
Rey was even clever enough to learn how to open doors using the handles. "I've had to buy baby locks for my doors so he doesn't sneak out," said Whitaker.
Whitaker emphasized the importance of ESAs. The Fair Housing Act states, "an emotional support animal's sole function is to provide emotional support or promote emotional well-being."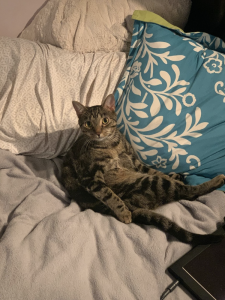 "I think some people believe ESAs are silly or unnecessary, but I think ESAs are a vital part of mental health services at DePauw and can serve to make higher education more equitable. [...] He also serves as a tether between my school life and my life back home," said Whitaker.
Whitaker expressed how Rey had not only been a help during difficult times but had also provided exceptional companionship throughout her college experience. The two continue to make memories together as they finish their time at DePauw.