DePauw University Panhellenic Association and Interfraternity Council (IFC) are continuing the conversation about sexual consent. The two organizations co-sponsored a workshop entitled "Consent: Righting the Wrongs" on Feb. 28 in Olin Auditorium.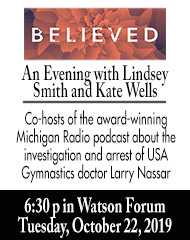 "We understand that this is a hard conversation to have. This is not a conversation that will end tonight, but it's something that we hope spurs the conversation on our campus so that we can keep it going in the future and just really use this as a starting point to really open up your minds about consent," said junior Liz Getz, vice president of risk management for Panhellenic.
The event started with a general overview of what consent means followed by the audience splitting up into small groups, led by Panhellenic and IFC executive members.
"We're going to talk about Indiana's definition of consent, or lack thereof, in the beginning," Getz said. "First of all, Indiana does not legally define what consent is." Getz continued to state what was actually illegal such as rape and Indiana's definition of an incapacitated person.
"In the handbook it clearly states: clear, knowing, and voluntary agreements to participate in sexual activity," said sophomore Richard Costas, vice president of risk management for IFC. Costas then continued to explain the University's definition of consent.
After showing a TED Talk that recounted a woman's rape by her boyfriend, the audience was split up into groups for smaller discussions. "Consent goes both ways. It comes from both people. It's important to identify that sexual assault occurs in one in four women and one and six men," Getz said before the break-outs.
The questions posed for the small groups ranged from simple to more complex. For example, "Is physical consent the same as verbal consent?" and "How can consent be defined within a monogamous relationship?"
Following the small group discussion, Getz and Costas brought the audience back together to briefly go over the questions. The meeting ended with presenting a list of resources students could use regarding sexual assault such as the Title IX Coordinator Office or Sexual Assault Survivor Advocates.
The event was met with positive reception by students as well as some suggestions.
"One thing I think they did really well was encourage both genders to be here because, although a lot of people have the perception that it's a crime specifically to females, any female could do the same thing to a male," junior Emily Cline said. "I don't know if they extended the offer to MGC and NPHC, but I think that's something that could have been improved, to not just have Panhellenic and IFC." Cline also noted that the workshop was the largest Greek event attended by men that she had been to before.
Additionally, the Panhellenic and IFC Risk executives plan to continue a monthly series on various risk-related topics. "Richard and I basically set a different theme for every month and the theme for this month we decided on was sexual assault and consent," Getz said. "We thought consent was something where the conversation could be opened up a lot more."