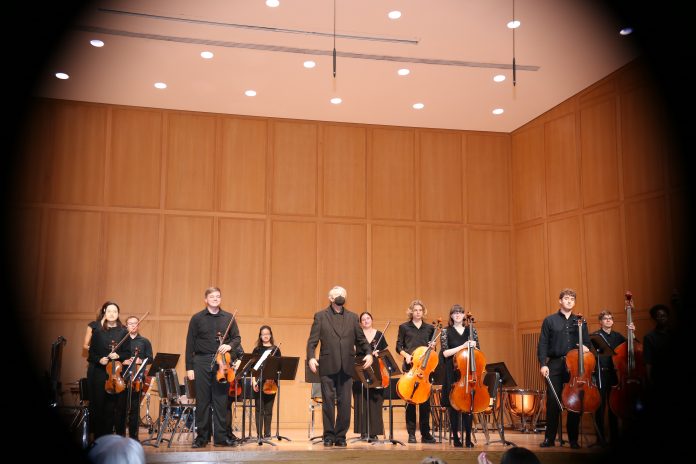 On Sunday, Oct. 30, DePauw Music presented a concert consisting of the Orchestra Strings and DePauw University Band. The performance took place at 3:00 p.m. in the Kresge Auditorium. For the students and the conductors, the concert was an overall success. Because the performance happened at the end of the first week back from fall break, there was a very limited gap of time for practice, which worried both the conductors and the students. However, the band and strings pulled through with amazing effort. Craig Paré, the conductor of the University Band, remarked how proud he was of the effort and performance of the students.
Paré went into the performance with two goals in mind: to challenge each student and to watch them grow and improve. He wanted a wide variety of music to entertain the audience that night and was pleased with how successful that came across.
From the band and conductor Paré's perspective, the audience had the best reactions at the "American Symphony" from the movie "Mr. Holland's Opus" and "Ghost Train." The "American Symphony" is a large collection of sounds from a beloved movie. The "Ghost Train" is the sound that depicts a supernatural train chugging along through the night.
Paige Burgess, a sophomore in the DePauw Band majoring in music education, shared that overall, the performance was wonderful. Burgess also enjoyed the crowd's favorite piece of the "American Symphony" from "Mr. Holland's Opus." Burgess said, "I feel like my performance was satisfying, and I think the group's performance overall was wonderful."
Burgess also added that there was stress with the limited practice time that was presented to them and other students. Similarly to how Dr. Paré felt about the performance, Burgess confirmed that he had prepared the students well and made the performance outstanding.
The audience loved the performance as much as the students and conductors loved presenting the project. Paré, as a whole, described the performance as "An excellent effort by the University Band musicians, and I'm already looking forward to the next rotation that I have the opportunity to make music with this talented ensemble again."