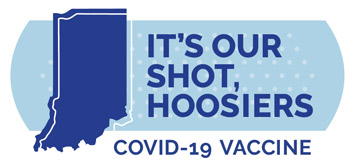 Johnson and Johnson COVID-19 vaccines will be available on the DePauw campus and to the local Greencastle community on April 2, according to a mass email sent on Friday, March 26 by the COVID-19 task force. The mass vaccination clinic will be at the Lilly Center Neal Fieldhouse from 9 a.m. to 8 p.m.
Those who are 18 and older will be able to schedule vaccination appointments on Wednesday, March 31, in accordance with Indiana's vaccination plan. Appointments must be made in advance by calling 2-1-1 or visiting ourshot.gov.in. All students, including international and out-of-state students, can make the appointment using their campus address at ourshot.gov.in. The campus address should be in the following format:
Student's name
UB # ___
408 S. Locust Street
Greencastle, IN 46135
While Indiana has approved the vaccination for those ages 16 and older (read more here), the Johnson and Johnson vaccination has not been approved to be distributed to those who are under 18.
Volunteers are needed to assist on April 2. Those interested in volunteering must complete this Google form by Tuesday, March 30 at 4 p.m.