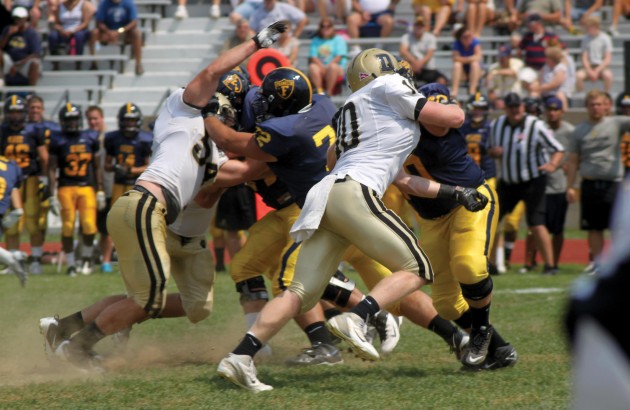 Consistency was not a phrase associated with DePauw's 2011 offense, unless one's speaking about Lewis Brown '12 and Mitch Turnbow '12. Both four-year starters, they anchored the left guard and center positions amid a transition to a new conference.
But this season, adjustments on the offensive line are inevitable and open up a group position battle that may be the most interesting of any unit for the Tigers.
No offensive line spots are solidified for a Tiger front five that will deploy an inside zone oriented rushing attack. Freshmen and sophomores will battle for a limited amount of slots before the Tigers first game Sept. 8 against St. Olaf at Blackstock Stadium.
"We just have to continue to get better across the board up front," said Joe Deifel, offensive coordinator. "We're young right now. It's a learning process, and we are just trying to teach the basics and get good at a few things."
During the scrimmage Saturday afternoon against Franklin College, DePauw's offensive line revealed a variety of new faces and witnessed an experienced group of sophomores make a charge for the first tier of the depth chart.
Freshmen Taylor Schellman and Kody Bontreger saw repetitions on the first team at the center and left guard positions, the latter left vacant by Brown and Turnbow. Sophomores Oskar Kane, Chad Hale and Dan Howard also saw significant snaps and will likely battle for starting slots.
"We are just looking to see who is going to separate themselves from the rest of the pack," Deifel said. "(We want) someone who is going to have a complete grasp of what we're doing offensively and be a physical player."
Seniors Jimmy Vann and Christopher Lamping anchor the leadership positions on the offensive line – unfamiliar territory for these DePauw veterans.
"Jimmy and I are doing our best to get everyone prepared and take the young offensive linemen under our wing," Lamping said. "We have a lot of young players that have the chance to see the field this year."
Lamping and Vann will also act as the vocal leaders, a task once shared by Turnbow and Brown.
In Saturday's scrimmage after Franklin successfully rushed three players in a matter of seconds to the DePauw offensive backfield, Vann forcefully called out his fellow linemen on the sideline for failing to provide pass protection.
Entering a competitive NCAC field that includes perennial powers Wittenberg University and Wabash College, the Tigers know that a consistent offense starts with a cohesive offensive line.
"[The offensive line] is young right now," Vann said. "It's tough, but we have to worry about the little things. You can't build the Eiffel Tower without the foundation."