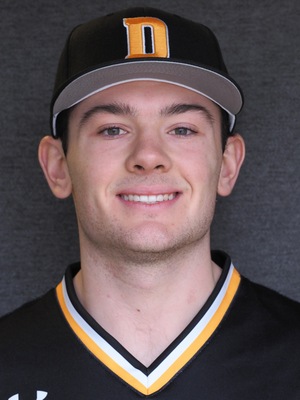 Junior baseball pitcher Nick Casey recorded a win over Manchester University Sunday morning, as he pitched seven and a third innings. He only allowed one earned run, six hits and struck six batters out. He is this week's Tiger of the Week.
TDP) You pitched seven and a third innings, allowed one run, six hits and had six strikeouts. What allowed you to be so effective?
NC) I was able to locate well and throw all four of my pitches effectively for strikes. It helps to be able to keep the hitters off balance, and I felt like I was able to do that throughout the game.
TDP) What are your goals for the remainder of the year? Individually and as a team?
NC.) I want to be able to go out each and every game and put our team in the best situation possible to win the game. I believe that we have a talented group this year, and I feel like we have the opportunity to put ourselves in a situation to win every game. I believe that we can be a very competitive team in our conference, and we have the pieces to be able to compete for a conference championship.
TDP.) What made you fall in love with baseball?
NC.) Baseball has been a sport that I have been playing since I was very little. Over the years, baseball has given me the opportunity to grow as an individual and train each and every day with the intent of becoming a better version of myself. I love competing and being able to contribute to a team.
TDP.) Did you always know you were going to play baseball in college?
NC.) Since I was 12 years old, I had always wanted to play collegiate baseball. I had always wanted to give myself the opportunity to play the game as long as I could. I also feel that college baseball gives me the opportunity to compete at a high level and allows me to test my own abilities.
TDP.) Do you try to model your game after any baseball player?
NC.) There isn't one player I model my game after. I like to pick small pieces out of many players' games and incorporate that into my preparation or mechanics.