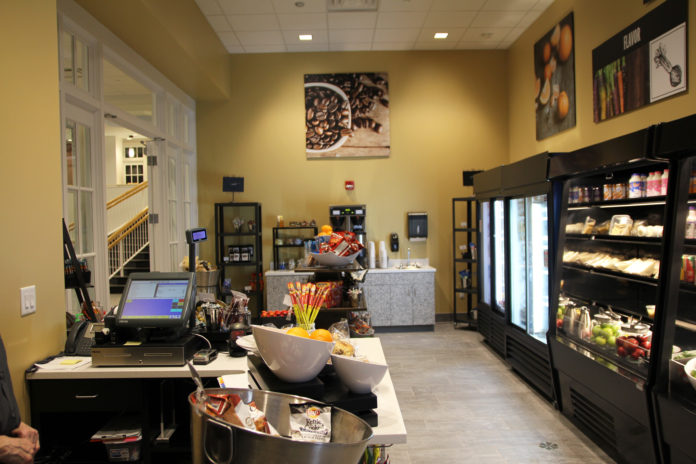 The first day back from Spring break, students were greeted with the opening of the convenience store in the Union Building.
The convenience store, run by Bon Appetit, is serving snacks to people on campus. It has foods ranging from hummus, to fresh food, to organic, and to microwavable foods.
"We were trying to respond to the student work groups, which were put together during the late fall of 2015 to try to look at some specific needs," Warren Whitesell, project manager, said.
Part of the goal of the new convenience store is to replace the Den, which was closed last semester, and help facilitate transitions to different dining spaces on campus. There is also hope that the new store will create a community space for students in the UB.
"Hopefully the space will draw people there by itself," Whitesell said. "I don't know if it was trying to strictly replace it [The Den], but there was lots of use of the convenience store in the past so to just to abandon that idea was not good for the university."
Additionally, there is hope that the new store will help the space develop more into a space for students. "We want to make the living room truly a desireable place to come and have options for activities and the convenience store is there to support the crowd" Whitesell said.
Whitsell hopes to see the store serve students best next semester, after the construction surrounding the UB is finished, which is set to happen before alumni reunion weekend this summer. "I am hopeful to see it continue to flourish I think it won't see it's ultimate traffic flow until we have the plaza work complete," Whitesell said. "So when the corridor [near the UB] is open and accessible I think that is when you see it really flourish."
Many students are very excited about the new addition to campus. "Listen to me, there were chicken nuggets, and ice cream, and raspberries, and blueberries, and limes, there were limes at the new convenience store," said sophomore Kiara Goodwine, "I don't even think I have to articulate how I feel about this in direct words because, quite frankly, wow."
Some students are excited about having a new convenience store available to them on campus, but wish it could have been advertised better. "I'm all for it because we don't have as many food options I feel like," said sophomore Emily Troyer. "I had no idea it was happening, but I also live in a Greek house so I don't keep track of that stuff as often."
Other students are optimistic but not certain the store could create a new space on campus. "I think it's great that we have a new store similar to the Den. But it still doesn't feel like a substitute for the Den," said sophomore Abhishek Sambateur. "The Den helped create, like, a social space for students that is different from Hoover, so we have to wait and see if the C-store [Convenience store] can do that."