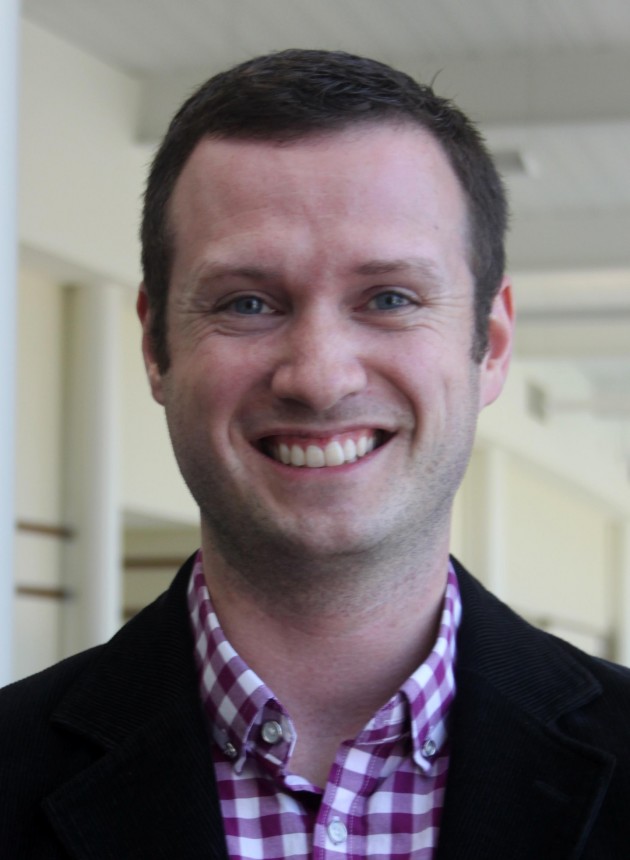 Due to a growing demand, DePauw University School of Music added a new course – composition – which hasn't been offered for many years.
New Assistant Professor of Music Scott Perkins, who came to DePauw from Central Connecticut State University in New Britain, Conn., was hired to fill the opening and is eager to guide students of all interest levels into the art of composing.

The DePauw: How did you come to teach at DePauw?
Scott Perkins: I actually know someone on faculty – Greg Ristow, the director of choral activities. I found out about the position through him. I got a really positive impression of the place when I came out to interview.

TDP: What education do you have?
SP: I completed my undergrad at Boston University in theory and composition. Then I have a MA in music theory pedagogy at The Eastman School of Music, another MA in music theory from Eastman and then a Ph.D in composition from Eastman.
TDP: How did you become interested in composing?
SP: Well, I've been composing for a long time. I started composing when I was five, and I think I knew I wanted to be a composer when I was 14. There was a composition competition in which the Hartford Symphony Orchestra would perform the winner's piece twice and the composer got to go out on stage.
I won the competition with a piece I wrote when I was 12. I eventually applied to college for composition. That was kind of a gamble because I didn't know any other composers so I didn't know how I stacked up against anybody else. I kind of defected when I went to graduate school and went the theory route, but then came back to it.

TDP: What other musical experience do you have?
SP: I am a tenor and a pretty active performer. I tend to specialize in early and contemporary vocal music. I guess because I was both a tenor and composer I was kind of the go-to guy for vocal music.

TDP: What courses are you teaching at DePauw?
SP: I am teaching Theory I, Musicianship I and Composition.

TDP: What is the relationship between music theory and composition?
SP: I am not sure there is always a one-to-one mapping between the two of them, but studying music theory opens up new possibilities about the way music works – the structure and materials. Knowing how other composers have done things before can help you solve composition problems. All of that is in the subconscious when one is composing.
It's not to say that theory never plays an active role in composition – that's not true – but it doesn't always. I do think that there is a difference between being a theorist and a composer. Just because you can put something together doesn't mean you can put it together in a personal way.

TDP: What do you hope to achieve at DePauw?
SP: I've gotten a strong vibe from the faculty that there is a very positive climate here. It seems that there is a positive environment in encouraging new music. My main interests from the composer's side is to generate interest here from the students, to draw attention to it.

For more information on Perkins and his work, visit scottperkins.org.