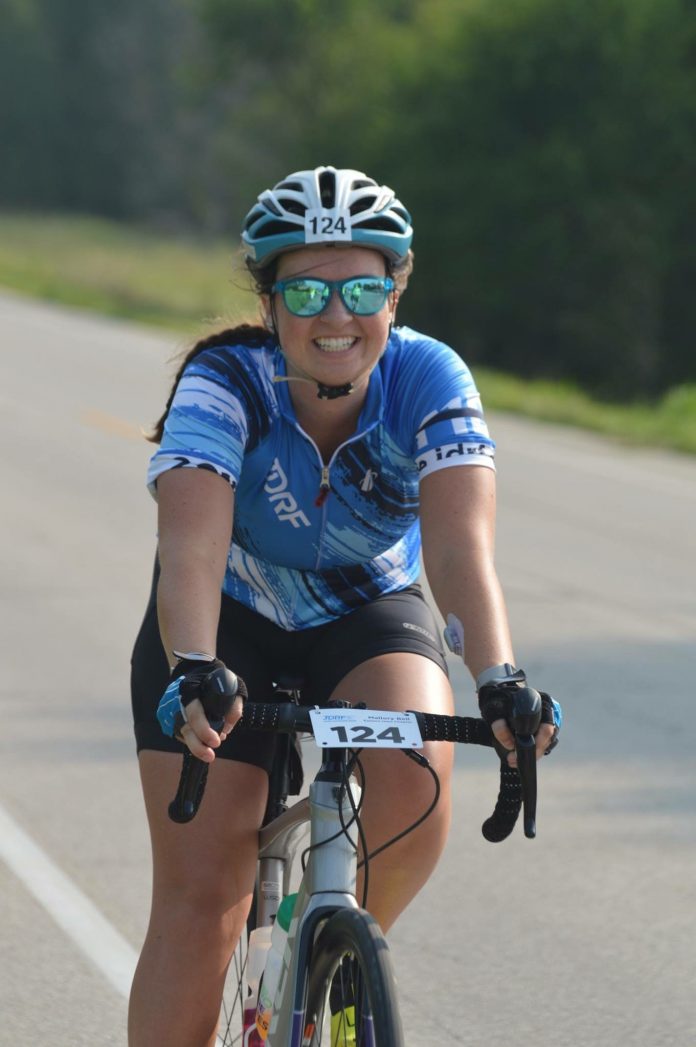 Dozens of DePauw students will bike in this year's annual Little 5 race. Some bike for the competition. Some ride for the school spirit. Others compete as a way to stay in shape. Mallory Bell bikes for a far bigger purpose.
Bell rides in bike races annually to raise money for the Junior Diabetes Research Foundation (JDRF), a non-profit organization for diabetes research. Since 2016, the Terra Haute-native has raised over $4,000 annually to be able to compete in JDRF Ride to Cure Diabetes races, in which all the money goes to JDRF.
Bell was diagnosed with Type I diabetes in fifth grade, a condition that took her by surprise and changed her life forever.
"I was scared," she said.
Having diabetes made her grow up quicker than other boys and girls her age. She had to check her blood sugar multiple times a day and watch what she ate to calculate how much insulin to give herself.
"Most elementary school students don't have those responsibilities," Bell said. "I had to be an adult real quick."
Bell had a tough time accepting her diabetes at a young age. It was something a lot of younger kids didn't understand, and it embarrassed her. In support of Bell, one of her aunts began racing in the JDRF Ride to Cure Diabetes race seven years ago in La Crosse, Wisconsin.
"She raced in my honor," Bell said.
Bell followed suit five years later and joined her aunt as a senior in high school. There are races across the country, but Bell has only competed in the race in La Crosse for the past two years. She said that racing in these events has been a way to own her condition and embrace it.
"Since I was sort of embarrassed by it when I was younger, these races gave me a chance to own my diabetes," she said. "It's a great cause and one that helps me personally, but more importantly, a lot of other people."
This upcoming year Bell will be competing in two races. She will return to La Crosse for her third straight year and will also compete in the race in Death Valley, South Carolina. Bikers must raise $4,000 to compete in the races, so Bell will have to raise twice as much money this year than in the past.
She raises a large amount of her money through social media and has participated in events like Paint for a Purpose in the past, but due to having to raise more money this year, Bell is planning additional events like an auction and a concert.
Bell will be competing in DePauw's Little 5 race, but more so as a way to train for her upcoming races. The JDRF Ride to Cure Diabetes races are 100 miles, much further than DePauw's race, which is only 18 miles. Biking has always been one of Bell's family's favorite activities, so she has always been comfortable on a bike, but the races are a gauntlet compared to anything Bell did as a child.
"One-hundred miles is a long way," Bell said. "But the toughest part might be the elevations because the paths have a lot of hills. When I'm training, I have to find hills to practice going up and down on."
Zach Williams, a senior at DePauw with diabetes, is impressed with the effort Bell has put in to compete in these races. He had known that these races occurred, but didn't know anyone personally that raced in them until he heard about Bell.
"As someone with diabetes, I think it is very cool that Mallory [Bell] races in the JDRF events," Williams said. "It takes a lot to raise the money, train, travel to the event and actually bike the 100 miles. I give all the props in the world to her."
When Bell gets on her bike Saturday to compete in DePauw's Little 5 Criterion, she will be surrounded by students who are all on their bikes for different reasons. The other bikers may not know when they set up shop next to her the importance of Bell's biking career.