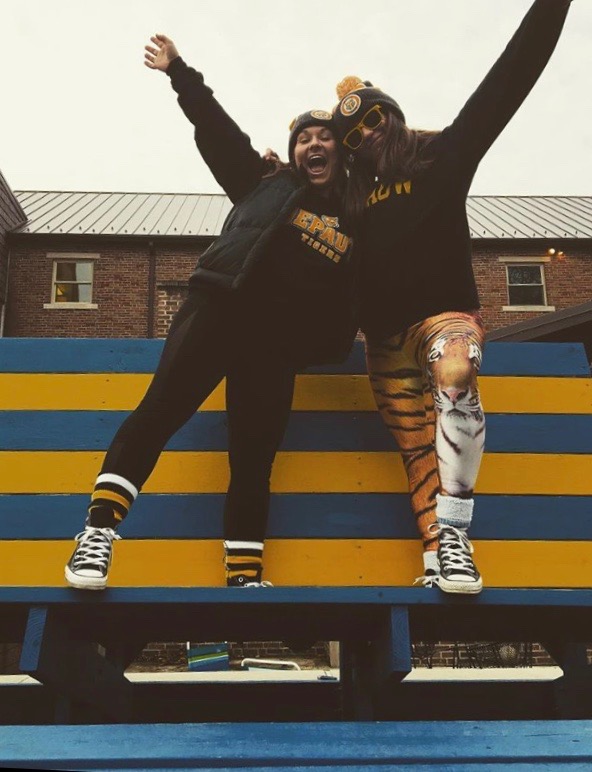 With only a week and a half until Monon, it's getting down to the wire to secure Monon outfits. Any black and gold will do, but from past experience, there's an unofficial Monon uniform. If you haven't caught on to this trend, just wait until Nov. 16 and 17 when Instagram and Snapchat are flooded with people wearing the same variations of Tiger apparel.
If you're still in need, we've done a little research on what you might consider wearing and where you might find it. Keep in mind, "alcohol blanket" or not, you could be outside for a few hours and the high for that day is forecasted to be only 38 degrees. Here's a list of options from head to toe.
DePauw Beanies - Ranging from $14-$28, a DePauw beanie is a practical way to top off your outfit. Also, with cold weather upon us, if you buy one of these black and gold caps, at least your head will be warm.
Black and Gold Overalls - At $55, we guess you could say this would be a bit more of an investment piece. It could be worth it, as it would probably be warmer than a thin pair of leggings. The website linked does say you can get it as early as this Saturday if you order it now, but the stock is limited.
Tiger Onesie - This piece is a bit over the top, but if that's you—go for it. It has to be warm, and for $36 it's cheaper than the striped overalls. Plus, you can just crawl right into bed for your nap after tailgating in this outfit.
DePauw Sherpa Pullover - We don't know about you, but we love sherpa pullovers. While this top doesn't scream DePauw and comes with a $60 price tag, this is a piece that can be worn any day, not just on Monon.
Monon Shirts - In the past, DePauw Student Government has provided Monon shirts to students, and fingers crossed they'll do it again. Keep an eye on your email; you won't want to be last in line to get one.
Tiger Leggings - Tiger anything is always the move, so these tiger leggings might be the way to go if you're looking for something under $20 because they're only $14. Plus, they're Amazon Prime and have four stars, so they must be good quality, right?
Gold Metallic Leggings - At $15, these gold metallic leggings can also be shipped to you in just two days (thanks, Amazon). They may or may not be less tacky than the tiger ones. You decide.
Fuzzy DePauw Socks - Speaking from experience, you'll need thick socks to keep your feet warm through tailgating and the game. Any fun socks will do, but these socks from Eli's Bookstore are actually only $10.
Goodwill - If you're not looking to buy online or need something quick, you can always piece together an outfit from Goodwill. Sources say they usually have some Tiger apparel on hand.
At the very least, just please don't wear red.
(Disclaimer: None of these companies are paying us for any of this. We just used good old Google to get the answers to all of the questions we know you've been asking yourself.)